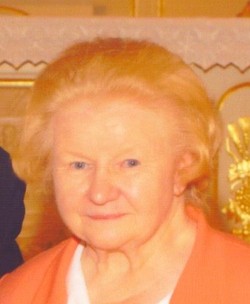 Mrs. Elizabeth Salitis, 84, of Duryea, passed away Saturday, June 13, 2020, at her home.
Born in Old Forge, she was the daughter of the late Joseph and Victoria Potempa Brzostowski and was a graduate of Old Forge High School. Prior to her retirement, she was employed in the area garment industry and Walmart, Pittston Township.
She was a member of Nativity of Our Lord Parish, Duryea.
Elizabeth enjoyed spending time with her family, especially her granddaughter, Abigail. She also enjoyed sewing, working in her garden and going to the casino. She was a member of the Polish National Alliance.
She was preceded in death by her husband, Jerome P. Salitis, who passed away on February 5, 2014, brothers, Joseph, Edward and Bernard and sisters, Regina Kenia and Genieve Juba.
Surviving are:
Son, Greg Salitis and his companion, Sue McGeehan of Exeter
Son, Martin Salitis and his wife, Maureen, of Olyphant
Granddaughter, Abigail Salitis
Brother, Rev. Hilary Brzostowski of Maryland
Sister, Josephine Pagnotti of Old Forge
Sister, Barbara Michalowski of Scranton
Nieces and nephews
A Mass of Christian Burial will be held on Wednesday, June 17, 2020, at 10:30 am in Holy Rosary Church, 127 Stephenson Street, Duryea with the Rev. John Polednak officiating. Interment will be in Holy Cross Cemetery, Old Forge. There will be no public viewing. In lieu of flowers, memorial contributions may be made to the Hughestown Ambulance, 30 Center Street, Hughestown, PA 18640. Arrangements are by the Bernard J. Piontek Funeral Home Inc., 204 Main Street, Duryea. To leave an online condolence for Elizabeth's family, please visit the funeral home website, www.piontekfuneralhome.com.
PLEASE NOTE: YOUR ONLINE CONDOLENCE WILL NOT APPEAR UNDER THE GUESTBOOK ENTRIES UNTIL IT IS APPROVED BY THE FUNERAL HOME
Guestbook Entries
Martin and Greg I am so sorry for your loss. Your mom was always so sweet and so kind to me and my mom. Sorry I could not get out there for the mass but you are in my thoughts and prayers.

Susan Clement

(24 days ago)
I'm so sorry for your loss

Michelle (Malosh) Donato

(25 days ago)
Our deepest condolences to you and your family. We're so sorry for your loss, and our thoughts and prayers are with you and your family.

Joe Caruso and family

(26 days ago)
So very sorry for your loss, my condolences to the family.

Wendy Vogel-McCawley

(26 days ago)
The tempest is over, ow the sun is shining. Aunt Josephine & Angela

Josephine Pagnotti

(27 days ago)
The tempest is over;now the sun is shining

Josephine p

(27 days ago)
Marty and family, our heartfelt Condolence for the loss of your Mom. Our prayers are with you and your family.

Phu and Judy Nguyen

(28 days ago)
Marty and family, we are very sorry for your loss. Our thoughts and Prayers are with you and your family.

Vincent D Nguyen

(28 days ago)
So sorry for your loss.she was so kind and sweet.god bless

Linda wruble

(28 days ago)
I'm very sorry for your loss. My thoughts and prayers to the family. I will always remember her kindness.

MaryAnn Sheerer

(28 days ago)
Marty and family, Very sorry for the loss of your mom. Michael khalife

Michael Khalife

(28 days ago)
Our hearts and prayers go out to the family

Anna and Stephen Pomichter

(28 days ago)
Fr. Hilary will offer Mass for sister Elizabeth tomorrow. May she rest in pain free peace.

Aunt Barbara

(28 days ago)
Martin and Greg...my deepest condolences. Your Mom was a sweetheart and a good neighbor and friend. She Is at peace.

Pat Soroka Pickering

(28 days ago)
Marty and Greg so sorry for your loss. Liz was a special person with a heart of gold. I will miss seeing her doing laundry. Prayers for you and your family. Will see you at church.

Carole Kareha

(29 days ago)
Marty, Our thoughts and prayers are with you and your family during this time. I know distance separates us, but let me know if you need anything. Marcus, Rudy, Kalise, Sadie & Mia Sanger

Marcus Sanger & Family

(29 days ago)
Elizabeth was our neighbor on Lackawanna Ave. She was such a sweet person. May God be with you all in your time of need.

Patty Pernot

(29 days ago)
Sign the Guestbook