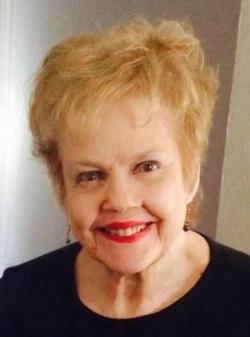 Elizabeth Guarilia, 83, of Duryea, passed away Thursday, April 23, 2020, at her home.
Born in Long Beach, California, she was the daughter of the late Capt. Kenneth and Velma Sealy Knowles. Elizabeth was a graduate of Washington Lee High School, Virginia and George Washington University, Washington, DC. Prior to her retirement, she was an elementary school teacher for Pittston Area School District.
Elizabeth was a member of Nativity of Our Lord Parish, Duryea.
She was preceded in death by her husband, Eugene Guarilia, who passed away on November 20, 2016.
Surviving are:
Son, Michael Guarilia of Kingston
Son, David Guarilia and his wife, Charlene, of Swoyersville
Daughter, Marlene Guarilia of Duryea
Granddaughter, Bethany Bretzik and her husband, John
Grandson, Andrew Guarilia
Granddaughter, Megan Guarilia
Brother, Dr. Kenneth Knowles and his wife, Carolyn, of Crofton, Maryland
Nieces and nephews
The family would like to thank Compassionate Care Hospice and Dr. Guy Fasciana for the care that was given to Elizabeth.
Private funeral services and interment will be held in St. Joseph's Cemetery, Duryea by the Rev. John Polednak. Arrangements are by the Bernard J. Piontek Funeral Home Inc., 204 Main Street, Duryea. To leave an online condolence for Elizabeth's family, please visit the funeral home website, www.piontekfuneralhome.com.
PLEASE NOTE: YOUR ONLINE CONDOLENCE WILL NOT APPEAR UNDER THE GUESTBOOK ENTRIES UNTIL IT IS APPROVED BY THE FUNERAL HOME
Guestbook Entries
Marlene Mike and David so sorry for the Loss of your dear mom Liz... she will be remembered for many things... especially her sweet kind fun loving nature.. I enjoyed doing her hairdo a few times... she will be missed ... keeping you all in prayer and hoping you nurses are safe!!!

Judy and Tom Lambert

(19 days ago)
I am so sorry for your loss.I really enjoyed working with Liz.She was a lovely lady.

Elana Holleran

(27 days ago)
So sorry for your loss. We all will keep you in our thoughts and prayers.

Robert A. Glycenfer

(27 days ago)
We were both proud members of the class of 55 at Washington-Lee High School in Arlington, Virginia. She was well liked in our class. My Prayers are with the family.

Nancy L. Elkins (Jenkins)

(27 days ago)
Mike, I am very sorry for your loss. My thoughts and prayers are with you and your family at this most difficult time. Lorraine Stella Duke

Lorraine Stella Duke

(28 days ago)
Our deepest sympathy!

Fred Pierantoni III

(28 days ago)
Dear Marlene, Mike and David. Liz was a kind, loving and beautiful person. We made memories sitting together at Gene's many music gigs . Her smile and laugh was infectious. May your many memories console your family.

Jack and Marion Tetlak

(28 days ago)
We are very sorry , prayers for your Mom .

Alfred and Anissa

(28 days ago)
I am so sorry for your loss. Peace and love to you all Bridget

Bridget Hogan Snopkowski

(28 days ago)
Another one of love's gone. A ladies Lady. She's with the big guy now. I know. That's what she wanted. Judy shall greet her in heaven. Gene 's got her back.

Nipper

(28 days ago)
So sorry for your loss,your mom and dad were beautiful people

Jimi Howell

(28 days ago)
Marlene, Michael and David we were so saddened to hear of your Mom's passing. Liz was so special, she was kind, caring and most of all a classy woman, may she rest in peace. We have wonderful memories of the times we spent with your parents and will never forget them.

Diane & Jack Sassi

(28 days ago)
Our deepest sympathies on the loss of your beautiful mother. Liz was such a lovey person, may she rest in peace.

Joe & Patti Yanchis

(28 days ago)
We were so sorry to hear of Liz's passing. She was a remarkable woman who managed to bring out the best in people. Definitely a woman who exuded class and grace. Our thoughts and prayers are with you.

Joe and Rosemary Curry

(29 days ago)
Sorry for your loss. Your mom and dad had a very special love. I'm sure they are together again in Heaven. It was a privilege to have known them.

Dr Joe

(29 days ago)
So sorry for your loss. Praying for you.

Patti Meckalavage

(29 days ago)
So sorry for your loss. Prayers being said for you family.

(29 days ago)
So sorry to hear of your loss. Your family is in our prayers.

Mary Russavage and Ann Russavage-Faust

(29 days ago)
Marlene,Michael and David, Your Mother was a bright light and lit the room up wherever she would go. Her heart was full of love and kindness for everyone she knew and met along the way. She touched all of our hearts and will always be remembered as being a beautiful, gentle, kind, loving and peaceful person. She lives on through you all and she will live on through you all. Marlene, you were her hero and now she is with your Dad watching over you with him. God bless you my friends. She will never be forgotten.

Jennie ,Tom, Taylor,Tiana, Santino and Caesar

(30 days ago)
Marlene, Michael and David, so very sorry for your loss. Liz was a unique and wonderful person who was truly loved by many. May she rest in peace. God Bless

Frank and Lorraine Haduck

(30 days ago)
God bless you during this difficult time. She was a wonderful & kind lady. May you find peace & our thoughts and prayers are with you all.

Tony & Jane Guariglia

(30 days ago)
Sending thoughts and prayers. I have many wonderful memories of teaching with Liz at the Lincoln. RIP

Roberta Battista

(30 days ago)
So sorry for your loss

Joe Stella

(30 days ago)
Micheal David and Marlene. Your mother was an angel on earth and will never be forgotten. She truly embodied the words kindness and motherhood. She made the world a better place and I will always be grateful for her friendship. My thoughts and prayers are with you all.

Donna Ryzner Farrugia

(30 days ago)
We are so sorry for your loss.

Dave and Jean Grundman

(30 days ago)
We are so very sorry for your loss. Liz was such a beautiful lady.

Jim and Cindy Hogan

(30 days ago)
Sorry for your loss.

Greg Salitis

(30 days ago)
So sorry for your loss.Your mom was a great person.

Bobby and Trese Nese

(30 days ago)
When you thought of Liz your thought were of a sweet sweet woman. So eloquent in all she did. Smiling all the time. So in love with her husband and so proud of her family. She is now where she probably has wished to be since she and Gene parted. Some children, like you and our family have the honor of seeing and living in a true love story. Gene & Liz toghether again.. so so sorry for your loss.

Janet Altieri Russo

(about 1 month ago)
Marlene, Michael and David Very sorry for your loss. Your mom was one of the nicest most elegant persons i knew. She will be missed. Take care Cheryl

Cheryl balchune McCann

(about 1 month ago)
Liz was a beautiful person with a gentle heart. May she Rest In Peace.

Mike and Ann Hopkins

(about 1 month ago)
Wonderful person, a real lady. Rest in peace.

Ginger Murphy

(about 1 month ago)
I am so sorry for the loss of your Mom ! Sending Prayers!

Patti Clifford Bartuska

(about 1 month ago)
Tears dry. Smiles and memories last forever..

Mark Rostkowski

(about 1 month ago)
Liz was the quintessential Southern Belle. Soft spoken and gentile. I taught with her and learned so much from her. She and Gene had a storybook love for each other and I am sure they are reunited in heaven. My deepest condolences to the family.

Paul J. Reedy

(about 1 month ago)
Such sad news. You were always such a joy to be around. Rip

Jennifer Nalaschi

(about 1 month ago)
What a lovely, kind, funny, pretty, inspiring woman. Liz, you were a very large presence in my life growing up, and I always had a fun time in your company. I enjoyed when you and Gene sat around our kitchen table and laughed and shared a meal with us. To me, you were my family. I was honored when you asked me to babysit your children, it was my first babysitting job. But, I have to say, my most memorable time was being on the dance floor with you! I know you and my Mom are together right now moving to "Sweet Home Alabama" and sipping a Margarita! Thank You for being such a good friend to her, and our family. Duryea will never be the same without you, and I will always have you in my Heart... Rest now lovely Lady.

Darlene

(about 1 month ago)
We are very sorry for your loss, we will keep you all in our thoughts and prayers.

Paula & Joseph Boyko

(about 1 month ago)
Sorry for your loss of a great lady that was loved by everyone God Bless and she's with Gene

Ron Ostrowski

(about 1 month ago)
I am very sorry for your loss. Your Mom and Dad were very nice people and will be missed.

John Anderika

(about 1 month ago)
Liz was one of my favorite teaching pals,her kindness and loving way way an example for all of us,my deepest condolences to the family at this time of sadness.My family will keep you all in our thoughts and prayers.

Mary lou fereck

(about 1 month ago)
So very sorry for your loss Thoughts and prayers to Family and Friends

Bernadine and Herbert Hoover

(about 1 month ago)
Sign the Guestbook