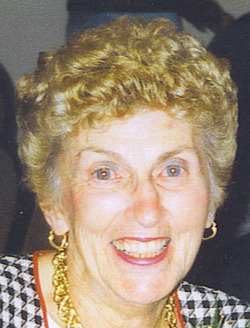 Mrs. Elizabeth (Betty) Yonushka RN, 91, of Duryea, passed away unexpectedly on Thursday, November 17, 2016, at Geisinger Wyoming Valley Medical Center, Plains Township. She was surrounded by her family. She was the wife of Joseph Yonushka. The couple celebrated 69 years of marriage on October 11, 2016.
Born in Duryea, on March 29, 1925, she was the daughter of the late Fred and Anna Dehaba Miller. Betty was a graduate of Duryea High School, The Scranton State School of Nursing and St. Joseph's College, Portland, Maine. She was a home health care nurse. She eventually retired as the School Nurse from Pittston Area School District.
She was a member of Nativity of Our Lord Parish, Duryea. She was a member of the American Legion Post 585, Duryea and the Daughters of the American Revolution.
Betty was a world traveler. She and her husband traveled thru Europe, Australia, Aruba and Cuba. She enjoyed her many trips to Atlantic City.
Betty enjoyed gardening, bingo and crocheting. She enjoyed many years of spending weekends at their cottage on the Susquehanna River, where she liked to fish.
She was preceded in death by her son Joseph Jr., daughter, Julianne, brother, John Miller and sisters, Anna Rava and Rose Slatky.
Surviving in addition to her husband are:
Son and daughter in law, Vincent and Rose Yonushka of Duryea
Grandson, Kristopher Yonushka and his wife, Alana
Granddaughter, Brianna Ciprian and her husband, Eric
Two great grandsons: Nando and Mario Yonushka
Many nieces, nephews and cousins
Her faithful and loving companion, her Yorkie Marm
Betty's family was the light of her life. She will be greatly missed.
A Mass of Christian Burial will be held on Monday, November 21, 2016, at 10:00 am in Holy Rosary Church, Duryea. Interment will be in St. John's Cemetery, Duryea. A viewing will be held on Sunday from 5:00 pm to 8:00 pm at the Bernard J. Piontek Funeral Home Inc., 204 Main Street, Duryea. Family and friends are asked to go directly to the church the morning of the funeral. To leave the family an online condolence, please visit the funeral homes website, www.piontekfuneralhome.com. If desired, memorial contributions may be made to the American Stroke Association, 7272 Grenville Ave., Dallas, Texas 75231 or online at StrokeAssoc.org.
PLEASE NOTE: YOUR ONLINE CONDOLENCE WILL NOT APPEAR UNDER THE GUESTBOOK ENTRIES UNTIL IT IS APPROVED BY THE FUNERAL HOME
Guestbook Entries
Prayers and condolences. My late mother, Ruth Lumley Orr, often spoke fondly of her time at Scranton State School of Nursing with Betty. Again, prayers.

Bob Orr

(over 3 years ago)
Dear Yanushka Family, Kindly accept our condolences in the loss of your love one. We miss their presence, but they live on in our hearts. May God console you during this time and always.

Lou & Rose Anna Falcone and Angie & Bill Black

(over 3 years ago)
Dear Joe and family, Please accept my deepest sympathy at the loss of Betty. Her warm smile and gentle ways will always be remembered.

Joseph Andrews

(over 3 years ago)
I keep the ceramic Christmas Tree you made for me up all year round in my living room to remind me every day is like Christmas. As Denise said, many fond memories of a lifetime of Christmas in Duryea.

Jack Yanushka

(over 3 years ago)
So sorry for your loss.Our thoughts and prayers go out to all the family.She was obviously an amazing person and we are so glad we had the opportunity to meet her this past April.

Ron Mondlak

(over 3 years ago)
So sorry for your loss thoughts and prayers with you and your family

Bebe Yuhas and Teddie Thomas

(over 3 years ago)
Rest in peace, Aunt Betty. I have very fond memories of Christmas dinners at your house. I still have ceramics that you made and will always be reminded of you.

Denise Yanushka Gibson

(over 3 years ago)
My thoughts are with you and your family. Please call if you need anything. So sorry for your loss.

Frank Rava

(over 3 years ago)
My deepest condolences for your loss of your mother. If there is anything I can do for you just ask .Our prayer are with you at your time of need.

Frank Rava

(over 3 years ago)
My deepest condolences for your loss of your mother. If there is anything I can do for you just ask .

Frank Rava

(over 3 years ago)
To my relatives and loved in Pennsylvania, so sorry for the loss of my aunt Betty. A truly remarkable person. I cherish her memory forever.

James Yanushka

(over 3 years ago)
May the good Lord shine His warm light on you Gramma Betty. I am honored to call you my friend! Prayers, Peace and Love to the family and friends. Until we meet again. ...Rest in Paradise Gramma Betty

Cathy Ryzner

(over 3 years ago)
Our thoughts ad prayers are with your family.

Mary Lou Fereck

(over 3 years ago)
Sign the Guestbook