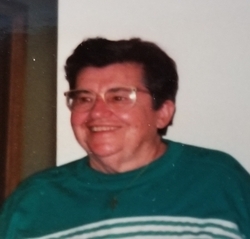 Ms. Eleanor Kupcho, 96, of Duryea, passed away peacefully on Friday, September 21, 2018, at Riverside Rehabilitation and Nursing Center, Taylor with her family by her side.
Born in Duryea, on July 28, 1922, she was one of fourteen children of the late Andrew and Theresa Pacolak Kopcho. She still resided in the home she was born in. She was a graduate of Duryea High School. Prior to her retirement, she was employed in local cigar factories.
Eleanor was a member of St. Michael's Byzantine Catholic Church, Pittston.
Aunt El loved a good party, especially the yearly family reunion. She loved a good laugh and could always be counted on to start a sing a long. She is in heaven singing and laughing with her sisters, Mary Sapolis, Theresa Fortunato, Helen Killino and baby sister Julia and brothers, Louis, Michael, Joseph, John, Andrew and William.
Surviving are:
Sister, Anna Ostrowski of Falls
Sister, Margaret Arcarola of Brooklyn, New York
Brother, Paul Kopcho and his wife, Mary, of Duryea
Nieces and nephews
Funeral will be held on Wednesday, September 26, 2018, at 11:00 am from the Bernard J. Piontek Funeral Home Inc., 204 Main Street, Duryea with the Mass of Christian Burial at 11:30 am in Holy Rosary Church, 127 Stephenson Street, Duryea. Interment will be in SS Peter and Paul, Cemetery, Duryea. A viewing will be held on Wednesday morning from 10:00 am to 11:00 am at the funeral home. To leave an online condolence for Eleanor's family, please visit the funeral home website, www.piontekfuneralhome.com.
PLEASE NOTE: YOUR ONLINE CONDOLENCE WILL NOT APPEAR UNDER THE GUESTBOOK ENTRIES UNTIL IT IS APPROVED BY THE FUNERAL HOME
Guestbook Entries
Dear Aunt Eleanor, I will truly miss you! Mark

Mark Paccione

(9 months ago)
Dear Aunt Eleanor, Thank you for the wonderful times I had when visiting you, the laughs we shared, and the warm family memories. Rest in peace. I love you!, Janet

Janet Paccione

(9 months ago)
Dear Aun El - I will always remember the wonderful summer vacations with you in Duryea when we had the time of our lives. We'll miss your laugh and seeing you at our family reunion. Enjoy Heaven! Love your niece, Nancy

Nancy Arcarola

(9 months ago)
Aunt El, Growing up next door to you was something everyone should experience. We planted arbor day trees and they actually grew!!!!! Later as I grew you were there for my daughter as well.We spent every holiday together as Dad and Mom's table. Keep the party going up there! We love always.

Diane Vivalda

(9 months ago)
Thanks for the memories, Aunt El, from the picnics when I was around 8 yrs old to the present (at 79). And thanks for always being there for us. Love and kisses,

Andrea Arcarola

(9 months ago)
I will miss your great laugh. Rest in peace in Heaven.

Elaine Sarcuni

(9 months ago)
Aunt El, loved our good times together. I will always miss you. Love Marie

Niece Marie Sapolis DeCarlo

(9 months ago)
My Aunt Elner was a spitfire; she lived life her way with no regrets! I know shes is up in heaven at a polka party. I send you there with love! Go give heaven a bunch of heck!!!!

Mia Carla Lerda

(9 months ago)
Aunt Eleanor was always warm and friendly, and left us with the most wonderful memories. May she rest in peace.

Damian Sarcuni

(9 months ago)
Thanks for the great memories Aunt El. You will be missed.

Jennifer Conway

(9 months ago)
I love You, Aunt Eleanor. Thanks for all the good times. You will be greatly missed.

Julie De Carlo

(9 months ago)
Aunt El , Rest In Peace. Sending prayers,

Mary Ann. Sapolis and family

(9 months ago)
Sign the Guestbook