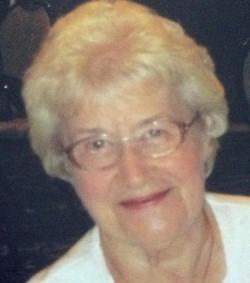 Mrs. Eleanor Guntkowski, 86, of Duryea, passed away Tuesday, May 19, 2020, at Linwood Nursing and Rehabilitation Center, Scranton.
Born in Duryea, she was the daughter of the late Michael and Mary Hajduk Vanko and was a graduate of Duryea High School. Eleanor was employed by the former Topps Chewing Gum Company, Owens Illinois and retired from Aureus.
Eleanor was very involved with both the Duryea Wildcat Mini Football and Duryea Little League Auxillary when her children were growing up. She was an active member of the former Sacred Heart of Jesus Church, Duryea, now Nativity of Our Lord Parish, Duryea and looked forward to her days of volunteering for the lenten food sales and annual church picnic. She was an avid Philadelphia Phillies fan. It was very rare for her to miss a televised game. She could talk for hours about the Phillies Roster, what team the players came from or where they were traded to. She also enjoyed carpet looming.
She was a loving mom, grandma and great grandma. Her grandchildren and great grandchildren were the light of her life. Although her siblings all passed before her, she remained very close with all of her nieces and nephews and loved them dearly. Eleanor was a very kind and thoughtful person who valued her family and friends above all else. She will be sadly missed by everyone whose life she touched.
She was preceded in death by her husband, Joseph E. (Curly) Guntkowski, who passed away on May 27, 1997, brothers, George, Michael and John Vanko and sisters, Mary Dushko, Helen Grala, Margaret Brojock and Anna Rupp.
Surviving are:
Daughter, Mary Ann Trinovitch and her husband, Keith, of Tunkhannock
Son, Joseph Guntkowski and his wife, Merlene, of Tunkhannock
Daughter, Jean McGinty and her husband, Terrance, of Inkerman
Granddaughter, Jessica George and her husband, Jesse
Grandson, Jason Gorzkowski and his wife, Shannon Davis
Grandson, Jeffrey Gorzkowski and his wife, Alicia Foster
Granddaughter, Kristi Bitler and her husband, Ryan
Six great grandchildren
Nieces and nephews
The family would like to thank Compassionate Care Hospice, the staff of Linwood Nursing and Rehabilitation Center and Dr. Guy Fasciana for their compassion and care that was shown to Eleanor and her family.
Private funeral services and interment will be held in SS Peter & Paul Cemetery, Duryea by the Rev. John Polednak. Arrangements are by the Bernard J. Piontek Funeral Home Inc., 204 Main Street, Duryea. To leave an online condolence for Eleanor's family, please visit the funeral home website, www.piontekfuneralhome.com.
PLEASE NOTE: YOUR ONLINE CONDOLENCE WILL NOT APPEAR UNDER THE GUESTBOOK ENTRIES UNTIL IT IS APPROVED BY THE FUNERAL HOME
Guestbook Entries
My deepest Sympathy to all of you. Your Mom was a Very Special Lady,she was so kind and caring about everyone she came in contact with. I know how she loved life and she lived it very well. God Bless all of you in this time of sadness.

Lois Balchune

(4 months ago)
With deepest condolences, we are praying for your family during this time.

Mark and Jennifer Salamon

(4 months ago)
To Eleanor's family, I'm so sorry for the loss of your mom and grandma. She was always a kind and welcoming neighbor with a great sense of humor. I have so many fun memories at her house, from climbing trees to summertime chats on the back porch. Thinking of you all, as you remember what a special person she was.

Tracy Yokimishyn

(4 months ago)
Joe and family, my dad Andy and I send our thoughts and prayers to you and your family during this difficult time.

Andrea and Andy Barycki

(4 months ago)
I am very sorry for your loss. I know it is especially hard in these difficult times. We are thinking of you now and hope the memories give you peace.

Kate Humphrey

(4 months ago)
She was a Sweetheart

Bernie Ozovek

(4 months ago)
I so remember Eleanor as a kind woman. Jeanie, Joe and Mary Ann I'm sorry for your loss.

Bernie Ozovek

(4 months ago)
My Dear cousins, I know how this hurts to lose your mom. The mother is always the rock of the family. I have so many memories of her by living next door to her and also being up Laceyville , camping with the family. She sure was a good cook, & made some great cookies around the holidays. God bless her.

Charlotte Guntkowski

(4 months ago)
Aunt Eleanor. What a kind hearted person. Always had a smile on her face and a treat of some kind in in her hand for us! So many great times growing up, especially with Grandma and Grandpa living right next door. God bless you and please tell everyone there with you that we said hello!

Rich Milewski

(4 months ago)
We are so sorry for your loss. She will be greatly missed. Jean, I always loved hearing stories of your mom. You are all in our prayers.

Mario & Jessie Ferrise

(4 months ago)
Jean We are so sorry for your loss. Sounds like your Mom was a wonderful lady and a lover of all her family. We are here for you and want to offer you our prayers for your family. All our love to you and Terry

Brian and Peggy McGinty

(4 months ago)
Joe, Merle and family....so sorry to hear of your mom's passing..

Diane Skurjunis

(4 months ago)
To Eleanors family I am sorry for your loss ... I know you all know what a great person she was and how much she will be missed .. she was a great lady to work with on church projects. Rest In Peace!!

Judy Lambert

(4 months ago)
To my dear cousins I am so saddened by the loss of your mother. Your Mom was such a special person to me. I will always Love and admire her so much. I always look back fondly on the times I was able to spend with your family. We had so much fun growing up. Yes even the time she yanked me out cousin Joe's bed because my feet were filthy for playing outside with no shoes on! Eleanor I am going miss you, Love you. God Bless.

John Brojock

(4 months ago)
So very sorry to hear about the passing of your mom. She was a very kind and loving person and was so kind after my mom's death. She always tried to be there when anyone needed her. So happy you had her for so long..... She will be missed so much. Thinking of you all.

Dave and Bev Mustapich

(4 months ago)
We'll sorry about your mother.

David and Judy Martinelli

(4 months ago)
Aunt Eleanor has been a true blessing to our entire family. Her kindness to all of us knew no limits. She will forever hold a very special place in my heart.

Michael Sowa

(4 months ago)
Words cannot express how very sorry we are about the passing of this very special woman. Our deepest sympathy and love goes out to all of her family. Dearest Aunt Eleanor, we have so many wonderful memories to cherish. We love you, we will miss you so much and we will never forget you. May God's perpetual light shine upon you.

Rita (Vanko) and Mike Sowa

(4 months ago)
First of all my deepest condolences to Mary Ann, Joe and Jean and their children. Aunt Eleanor was a special woman almost a second mom to me. Memories of her helping me through a bout of homesickness when I would come to stay during the summer when I was a child. She helped me through the darkest moments of my adult life also. I loved her dearly. Dear cousins of mine know that we were truly blessed by our wonderful childhoods. We all had some really great parents. In closing all I can say is Aunt Eleanor was a beautiful person I will miss her deeply.

Andrea (Brojock) Fisher

(4 months ago)
Jeannie, Joe and Maryann my deepest sympathy to all of you. I will pray for you all during this difficult time. Your mother was my friend and was loved by all of us. I will never forget the fruit cake, with a 5th of whiskey she would send me when I was in VietNam. I was so lucky to grow up next door.

John A. Guntkowski

(4 months ago)
So sorry for your loss MaryAnn, you often told many stories about your mom. Hold your memories dear.

Michele Scavo

(4 months ago)
We are so saddened by the loss of Aunt Eleanor. We enjoyed her gentle spirit and loving nature. We enjoyed the stories she told us as she got older about her childhood and young married life. She would recount events that happened years ago with such joy about her siblings and family. We will truly miss her. Rest in peace to a wonderful woman.

Charlie and Tina (Grala) Vennarini

(4 months ago)
Although we have lived a distance away for the past 45 years, extended family have remained in our hearts. Aunt Eleanor your gentleness and grace will be missed by all those who knew you in life. Rest quietly dear soul. We loved you and will love you always.

John & Theresa (Grala) Holmes

(4 months ago)
Prayers and love to all my cousins. I feel so fortunate to have had the opportunity to visit my dear sweet Godmother back in September and most recently in March. One of the last things she said to me was, "you know I love you, right?"... "Yes," I said, "and I love you too". THANK YOU for that Aunt Eleanor and for being the dear, sweet, gentle, kind, beautiful, wonderful woman you were on this Earth. I will miss you so much, but I will always feel you in my heart.

Jeanne Robideau (Grala)

(4 months ago)
I am so sorry for the loss of your mom! Aunt Eleanor was so loved by all and will be so greatly missed! I will never forget her and remember all of the wonderful conversations we had!

Mike and Ann Salamon

(4 months ago)
Sign the Guestbook