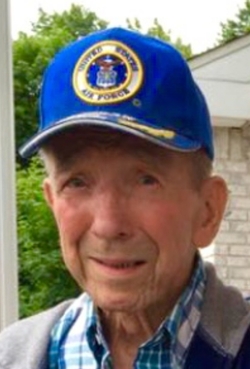 Mr. Edward S. Bejeski Sr., 88, of Avoca, passed away Sunday, December 9, 2018, at Kingston Health Care Center, Kingston.
Born in Hudson, he was the son of the late John and Elsie Jackiewicz Bezdziecki and attended Plains High School. Prior to his retirement was self employed as a plumber.
Edward was an avid hunter and fisherman and enjoyed playing chess and pitch.  He loved spending time with his family, his animals, especially his Beagles he owned over the years.   He was so loved for his crazy sense of humor and loved singing to everyone and dancing, especially with the nurses.  Edward was a member of the VFW Post 8335 Avoca.
He was preceded in death by a grandson, Matthew Joseph Newhart and brothers, Albert and Walter Bezdziecki.
Surviving are:
Daughter, Sandra Newhart and her husband Atty. Chester of Pittston
Son, Edward Bejeski Jr. and his wife, Mary Ann, of Duryea
Son, Robert Bejeski and his fiancee, Lori Gurley, of Avoca

Seven grandchildren:
Robert Joseph Bejeski
Christopher Edward Bejeski
Michael Paul Bejeski
Edward Stanley Bejeski III
Christine Marie Bejeski
Melissa Newhart
Christopher Newhart
Eight great grandchildren
The family would like to thank the staff and nurses at Kingston Skilled Nursing Center for the care, compassion and love that was shown to Edward while he was under their care.
Funeral Services will be held on Thursday, December 13, 2018, at 10:00 am in Langcliffe Cemetery, Avoca by Pastor Randy Bloem. Military Services will be conducted the Greater Pittston AMVETS Honor Guard. There will be no viewing. Arrangements are by the Bernard J. Piontek Funeral Home Inc., 204 Main Street, Duryea. To leave an online condolence for Edward's family, please visit the funeral home website, www.piontekfuneralhome.com.
PLEASE NOTE: YOUR ONLINE CONDOLENCE WILL NOT APPEAR UNDER THE GUESTBOOK ENTRIES UNTIL IT IS APPROVED BY THE FUNERAL HOME
Guestbook Entries
Sorry for your loss, he was a great man.

Bob Stefanko

(6 months ago)
Very sorry for the loss of your Dad. May he rest in peace. Prayers for your family.

Lynn Girman

(6 months ago)
Your dad was a rare gem! Sweet and kind! Sorry for your loss... he will be missed! Many blessings!

Lucy Sassi

(6 months ago)
I know he is up in heaven with my dad, his brother, (Albert Bezdziecki) catching up on old times about hunting, fishing and dogs....

Marie Hoinski

(7 months ago)
Will never forget you Uncle Ed. You filled my childhood with magical card tricks that I still know to this day! Love you always.

Tami Palka

(7 months ago)
I'm going to miss you,his jokes and his stories R.I.P. Ed I hope he and my grandpa are together and happy now.

William Bezdziecki

(7 months ago)
So sorry for your loss. Take comfort in your precious memories and love that was shared all these years. God Bless you all.

Gary & Ann Edwards

(7 months ago)
May God give your family peace and comfort. Our prayers and thoughts go out to you and your family.

Jose and Carmen Gonzalez

(7 months ago)
Sorry for your loss, he was a good man who help others.

Elmer weitz

(7 months ago)
May he rest in peace.i enjoyed talking with him and his best friend julia when i delivered to him.

Ed Ameika

(7 months ago)
Rest in peace old buddy, save me some fish! I know you'll be fishing if there's fish up there.

Bob Graham

(7 months ago)
My deepest condolences to the Newhart and Bejeski family

Elsine novak

(7 months ago)
I have wonderful childhood memories with your family. Your Dad leading the charge, singing "I've Been Working on the Railroad" on the way to Promised Land. We're keeping you all in our thoughts and prayers.

Paula Opel

(7 months ago)
So sorry!! For your loss!! Heaven has another good man!

AL Deno

(7 months ago)
Ed was truly an amazing man. always brightened my day with his singing & contagious smile. he was a joy to care for. feel blessed i was able to have him apart of my life.

jessica byam

(7 months ago)
He was a dear soul and will be missed by all. Blessings to all the family.

Joy Sones

(7 months ago)
Thank you for allowing all of us the opportunity to have Ed in our lives too. He was a joy and we will miss him.

Jennifer Megotz

(7 months ago)
Sign the Guestbook