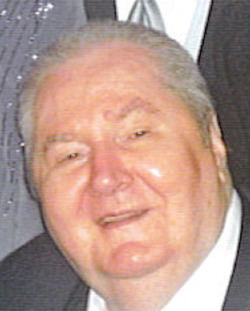 Mr. Edward A. Lovenduski, 86, formerly of Duryea, a guest at Highland Manor, Exeter entered into eternal rest on Sunday, April 16, 2017, at Highland Manor, Exeter where he was resident for the past 12 years.
Born in Duryea, he was the son of the late Anthony and Catherine Pajak Lovenduski. He was a graduate of Duryea High School. After high school, he joined the United States Air Force and served in the 6160th Air Force Squadron at Itazuke Air Force Base in Fukuoka, Japan. Prior to his disability, he was employed by the former Anemostat, Scranton.
He was a member of St. Mary's Polish National Catholic Church, Duryea.
He was a loving husband, father, grandfather and great grandfather. Ed was an avid fisherman, he loved football and listening to country music.
Ed was preceded in death by his wife, the former Margaret Lucarelli Lovenduski, who passed away on January 21, 2005, son, Anthony, sisters, Edna Kosteroski, Mary Mondlak, Eleanor Chessick, Helen Slack, Steffie Doleski, Sally Howell and infant sister Dolores and sister in law, Joann Lucarelli.
Surviving are:
Daughter, Lou Ann Marks and her husband, Gene, of Pittston Township
Daughter, Linda Tomlinson and her husband, Tim, of Old Forge
Granddaughter, Melissa Yuschovitz and her husband, Jason
Grandson, Gene Marks Jr. and his wife, Erin
Granddaughter, Jessica Lacomis and her husband, Jeremy
Granddaughter, Samantha Ristagno and her husband, Matthew
Great grandchildren:
Hannah and Benjamin Yuschovitz
Layla and Geno Marks
Brother in law, Angelo Lucarelli Jr. of Thompson
Nieces and nephews
The family would like to thank Dr. Guy Fasciana and the staff of Highland Manor for their care and friendship that was shown to Edward throughout the years.
Funeral will be held on Thursday, April 20, 2017, at 10:00 am from the Bernard J. Piontek Funeral Home Inc., 204 Main Street, with Mass at 10:30 am in St. Mary's Polish National Catholic Church, 200 Stephenson Street, Duryea with the Rev. Carmen G. Bolock officiating. Interment will be in the Parish Cemetery, Duryea. Friends may call Wednesday from 5:00 pm to 8:00 pm at the funeral home. A wake service will be held at 7:00 pm. To leave the family an online condolence, please visit the funeral home website, www.piontekfuneralhome.com.
PLEASE NOTE: YOUR ONLINE CONDOLENCE WILL NOT APPEAR UNDER THE GUESTBOOK ENTRIES UNTIL IT IS APPROVED BY THE FUNERAL HOME
Guestbook Entries
I am so sorry for your loss. My prayers and thoughts are with you.

Marguerite Barletta

(over 5 years ago)
You have been such a great example in giving such loving care to your father all these years! May God continue to comfort you with the beautiful memories you have of your father.

Susan Woods

(over 5 years ago)
Lou Ann and Linda-so sorry to hear of Ed's passing.He was a wonderful guy. I will also miss you two and your family. Such a familiar routine and a pleasure to know you. God bless.

Linda Mcgrady

(over 5 years ago)
Linda & Lou Ann, I'm so very sorry for your loss. Your father was a wonderful man and it was a pleasure knowing him. My thoughts and prayers are with you and your families.

Lori Henderson

(over 5 years ago)
So very sorry for your loss.

Bill and Diane Dougherty

(over 5 years ago)
So sorry for your loss. Ed was a wonderful man. Enjoyed all of his stories he told threw out the yrs. Always made us laugh. May he rest in peace.

Lucinda (Lucy) Mikus

(over 5 years ago)
Linda. so sorry for your loss. May you find comfort in your precious memories of him as he soars with the angels.

Ann Edwards

(over 5 years ago)
Lou Ann and Linda, I am so sorry for your loss. I remember your father. He was a good gentleman. My family and I send our prayers and condolences.

Dr. William Chromey

(over 5 years ago)
Deepest Heartfelt Sympathy to the Family

Ted Przybylka

(over 5 years ago)
Linda, we are so sorry for your loss. Our thoughts and prayers are with you and your family.

Linda Dzieciol

(over 5 years ago)
Linda, so sorry for your loss. Our prayers are with your father and your entire family during this time of loss. May he Rest In Peace. God Bless.

Valerie Olszewaki

(over 5 years ago)
Linda... so very sorry to hear of your dad's passing. My thoughts are with you and your family during this difficult time.

Martin Jon Ryzner

(over 5 years ago)
Sign the Guestbook