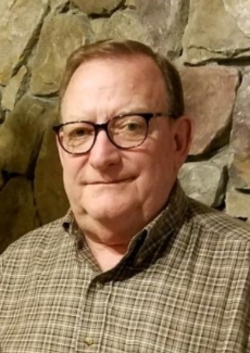 Mr. Edward A. Jones, 70, of Duryea, passed away Wednesday, February 6, 2019, at Geisinger Wyoming Valley Medical Center, Wilkes-Barre.
Born in Dallas, he was the son of the late Edward A. and Louise Balcum Jones and was a graduate of Lake Lehman High School.  Ed was a former Fire Chief for Fairmont Township, Ricketts Glen. As a navy veteran, he served in five tours of duty including, Vietnam, worked as a production manager for Marvel Kitchens, project manager for First General Services and retired from Dupont Developers.  He was a life member of the NRA.
Ed was a member of Nativity of Our Lord Parish, Duryea where he served as a eucharistic minister.
Ed was an avid golfer and a member of the Pine Hills Senior League, Taylor.  He was very proud of his first hole in one at the Four Seasons, Exeter and the second hole in one at Pine Hills, Taylor. He was a member of the Fort Ricketts VFW 8317, Benton.
He and his wife the former Joyce Skowronski celebrated their 21st Wedding Anniversary this past June 14th.
A funeral will be held on Thursday, February 14, 2019, at 10:00 am from the Bernard J. Piontek Funeral Home Inc., 204 Main Street, Duryea with the Mass of Christian Burial at 10:30 am in Holy Rosary Church, 127 Stephenson Street, Duryea. Interment will be in Holy Rosary Cemetery, Duryea. A viewing will be held on Wednesday from 6:00 pm to 8:00 pm at the funeral home. The AMVETS Honor Guard will provide military honors for Ed the morning of the funeral. In lieu of flowers, memorial donations may be made to Holy Rosary School, 125 Stephenson Street, Duryea.  To leave an online condolence for Ed's family, please visit the funeral home website, www.piontekfuneralhome.com.
PLEASE NOTE: YOUR ONLINE CONDOLENCE WILL NOT APPEAR UNDER THE GUESTBOOK ENTRIES UNTIL IT IS APPROVED BY THE FUNERAL HOME
Guestbook Entries
Joyce, Sorry for your loss, enjoyed the company of you both at traffic club functions.

Mark ans Sharon Nenichka

(over 3 years ago)
Joyce, So sorry for you loss. You both will be in my prayers.

Ann Dommes

(over 3 years ago)
Joyce: I am so sorry to hear of your loss.

Patrick Guerrise

(over 3 years ago)
I hunted with Ed for several years when he lived out in the Ricketts Glen area. He was a great guy. I enjoyed spending time with him. My thoughts and prayers are with the family at this most difficult time. R.I.P. Ed

Manus Mulheirn

(over 3 years ago)
Joyce.....God needed a special angel by his side and called Ed to be with Him. You now have a special guardian angel to watch over you. Our thoughts and prayers are with you always.

Linda and Jerry Coolbaugh

(over 3 years ago)
Joyce and Family, Our heartfelt sympathy and prayers on Ed's passing.

The Family of Father Charles Rokosz

(over 3 years ago)
Joyce and Family, Our heartfelt sympathy and prayers on Ed's passing.

The Family of Father Charles Rokosz

(over 3 years ago)
Joyce, While I shared many moments of brevity with you and Ed, I am saddened by the loss of a true Connoisseur of Life, a Servant of God and Country, a cherrished Husband and friend. Prayers for God's Loving Peace are sent today and beyond. Loving frienships last lifetimes.

Stan Nazarchuk

(over 3 years ago)
Joyce, so very sorry for your loss. My deepest sympathies.

Matt Shakespeare

(over 3 years ago)
Joyce, our sincere condolences. We have all lost a great man. Peace be with you.

Pete & Shirley

(over 3 years ago)
He was a really nice guy who always joked around with us. I will miss him.

Joshua Lentowski

(over 3 years ago)
I am so sorry for your loss...

Andy Lentowski

(over 3 years ago)
Joyce, so sorry for your loss. Sending prayers to you and your family.

Justin tonte

(over 3 years ago)
So saddened of the sudden loss of you wonderful husband, can't tell you what both of you meant to me, he will never be forgotten, may Ed R.I.P. You are in my prayers.

mary mcandrew

(over 3 years ago)
Joyce, we are so sorry for your loss. You are in our prayers.

Joe and Liz Zbylicki

(over 3 years ago)
Joyce, So sorry to hear about Ed's passing. You're in my thoughts and prayers. Stay strong. Hugs and kisses. Rosemary and family.

Rosemary Chromey

(over 3 years ago)
Sign the Guestbook