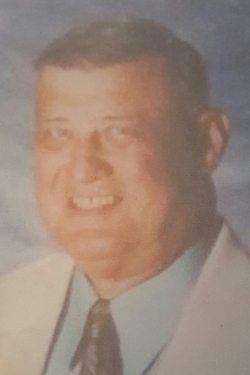 Mr. Edmund M. (Munda) Gromelski, 77, of Duryea, passed away Saturday, November 28, 2015, at Geisinger Wyoming Valley Medical Center, Plains Township.
Born in Pittston on August 7, 1938, he was the son of the late Edmund and Matilda Gawrys Gromelski. He attended Holy Rosary Parochial School, Duryea High School, Class of 1955 and graduated from the University of Scranton on a basketball scholarship, Class of 1960.
He was a member of Nativity of Our Lord Parish, Duryea (Holy Rosary Church) where he served as an usher for over 50 years.
He was employed by GAB General Adjusters and was branch manager of the Scranton Regional Office until his retirement.
Munda was a born leader and "Gazda". He was active in the Duryea Little League as a manager and President and was the 8th grade basketball coach at Holy Rosary School for many years. He also served as a Duryea Councilman and Council President.



He was a basketball referee, baseball and softball umpire and was a member of the Greater Pittston Umpires Association. He was a member of the V.F.W. Post 1227 and the American Legion Post 585, both of Duryea.
He was an avid sports fan, especially the Pittsburgh Pirates and Cleveland Browns and was an exceptional pitch player and always proclaimed he never met a left-hander he didn't like. (he was a lefty) He enjoyed spending time in Florida with his family and friends.
He and his wife the former Claire Komensky celebrated their 54th Wedding Anniversary on May 20th.
Surviving in addition to his wife are:
Son, Edmund Gromelski and his wife, Annette
Son, James Gromelski and his wife, Lisa
Daughter, Janice Miller and her husband, Frank
Grandchildren:
Edmund Gromelski and his wife, Kathleen, Andrew and Elizabeth Gromelski
Krista, Matthew and Morgan Gromelski
Justin and Jonathon Tonte
Great grandson, Joseph Gromelski
Brother in law, Andrew Komensky and his wife, Maureen, of St Louis, Missouri
Nieces and nephews
Funeral will be held Tuesday, December 1, 2015, at 9:00 am from the Bernard J. Piontek Funeral Home Inc., 204 Main Street, Duryea with the Mass of Christian Burial at 9:30 am in Holy Rosary Church, Duryea. Interment will be in St. John's Cemetery, Duryea. Friends may call Monday from
5:00 pm to 8:00 pm at the funeral home. To leave the family an online condolence, please visit the funeral home website, www.piontekfuneralhome.com.
PLEASE NOTE: YOUR ONLINE CONDOLENCE WILL NOT APPEAR UNDER THE GUESTBOOK ENTRIES UNTIL IT IS APPROVED BY THE FUNERAL HOME
Guestbook Entries
My cousin "Babe" was a big-hearted, kind and joyous person. My father, Leo (his mom Tillie's brother) thought the world of him and was proud of all he accomplished, and most of all, the man he was. Devoted to family, community and God: what a gift he was to this world, and a blessing to his family. Rest peacefully with your loved ones now.

Susan Gawrys Cole

(over 4 years ago)
Our deepest and heartfelt sympathy on your loss. We will keep you all in our thoughts and prayers'

Joseph and Beverly McNulty

(almost 5 years ago)
My deepest sympathies to you and your family at this difficult time, Claire

Ray Gutowski

(almost 5 years ago)
Our deepest condolences to the Gromelski family. Munda was a wonderful person and always a joy to be around. Sending our love and prayers.

Kristin and Robert Homan

(almost 5 years ago)
Ed and Annette, I am just hearing of the passing of your Dad at this time. May God help your heart and mind heal. Boss your entire family.

Lucy LoBrutto Ceresi

(almost 5 years ago)
Claire and family, Our thoughts are with you all. God bless Ed.

Joe and Mary Bender

(almost 5 years ago)
My Little Leage teammate on the Gamma Club Team.. You were our leader. A great swing and a wicked fast ball.. Blessings on Claire and your family during this difficult time.... You will be missed in Duryea.. May you Rest in Peace my Friend.....

Joe Rava

(almost 5 years ago)
Ed, Annette and family, So sorry for your loss. Our thoughts and prayers are with you.

Charlie & Pam Onesko

(almost 5 years ago)
May the perpetual light shine upon him. May God give your family peace and strength. Sorry for your loss.

Theresa Ryzner and family

(almost 5 years ago)
Condolences to the entire Gromelski family! He was a wonderful man!

Cathy (Langan) Matalonis

(almost 5 years ago)
Claire and family we are so sorry for your loss.

Bill & Mariann Aruscavage

(almost 5 years ago)
Such a shame, real nice guy! May the perpetual light shine upon him.

Chrissy Ryzner

(almost 5 years ago)
So sorry for your loss...Ed was a true gentleman..

Rita Skechus

(almost 5 years ago)
Claire. Ed, Jim and Janice Sorry for your loss. Edmund was a great guy who I got to know and was better off for knowing him. God bless you all. You are in my prayers.

Ron Dolman

(almost 5 years ago)
Our deepest sympathies and prayers to the family. May you Rest in Peace Mr. G!!!

Betsy Zinkavich Craig and family

(almost 5 years ago)
Rest in peace dear Munda and strength to your family!

ReNae Gavlick and Family

(almost 5 years ago)
You were an amazing man Edmund. My condolences to Claire, Janice, Frank, Justin and Jon. Be strong you guys.

Jessica Zielinski

(almost 5 years ago)
Love you grandpa

Justin tonte

(almost 5 years ago)
Sign the Guestbook