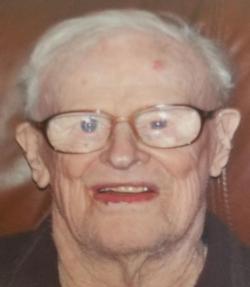 Mr. Donald Hastie transitioned into eternal life on Wednesday, November 1, 2017, surrounded and supported by his loved ones and his Pastor Rev. Alex Becker at the age of 97 proud years.
He was born on October 25, 1920, the son of the late Robert and Margaret Hastie. He was a graduate of Duryea High School, Class of 1939. He was retired from Tobyhanna Army Depot.
Donald was a World War II veteran having served in the Army and was proud to say he was part of the "Battle of the Bulge".  He was a member of the V.F.W. Post 1227 Duryea.
He was a life long member of the Langcliff Presbyterian Church in Avoca where he dedicated much of his time and God giving talents as an ELDER, a choir member and as Treasurer of Session. His faith was strong and his church family was very important to him.
Donald was a "charter" member of the Wyoming Valley Coin Club, the Scranton Coin Club and the Wilkes-Barre Coin Club. 
He was preceded in death by his 11 brothers and sisters, many nieces and nephews and a son in law, Dave Owens.
Donald was married to his late, loving wife, Martha for 63 years until her passing in January of 2008. "Rip" as she called him is holding her hand now for eternity.
He is survived by his four loving, thankful daughters and four "sons - in - laws".
Marsha and Ivan Tylawsky
Judy and Tom Lambert
Donna and Joseph Mayo
Elaine and David Davis
Nine grandchildren
Thirteen great grandchildren
Brother in law, Carl Rosa
Three generations of numerous nieces and nephews
The family would like to thank everyone that called him Daddy, Dad, Grandpa, Bompa, Brother, Uncle, Mr. Hastie, Don and Friend for all the love and respect extended to him through almost a century.
Funeral Services will be held on Monday, November 6, 2017, at 2:00 pm at the Langcliffe Presbyterian Church, 1001 Main Street, Avoca with services by the Rev. Alex Becker. Interment will be in Holy Rosary Cemetery, Duryea. A viewing will be held on Monday from 12:00 pm to 2:00 pm at the church.  The AMVETS Honor Guard will conduct military services on Monday.  Arrangements are by the Bernard J. Piontek Funeral Home Inc., 204 Main Street, Duryea. To leave the family an online condolence, please visit the funeral home website, www.piontekfuneralhome.com.  In lieu of flowers, memorial contributions may be made to the Presbyterian Investment and Loan Program, c/o Clare Lewis, 100 Witherspoon Street, Louisville, KY 40202-1396 or the Alzheimer Association, 1100 Liberty Ave., Suite E-201, Pittsburgh, PA 15222.
PLEASE NOTE: YOUR ONLINE CONDOLENCE WILL NOT APPEAR UNDER THE GUESTBOOK ENTRIES UNTIL IT IS APPROVED BY THE FUNERAL HOME
Guestbook Entries
Nancy and I will surely miss DON, a true gentleman I have had the pleasure of knowing and working within the numismatic community for more than forty five years. I hope the family that I have met over the years, can find comfort in knowing that Don is now with his beloved Martha.

Richard and Nancy Cross

(almost 3 years ago)
So sorry to hear of your Father's passing away. May he rest in peace. Prayers to all.

Mrs.Mary Esther Terruso & Family

(almost 3 years ago)
Judy and family' God Bless you all during this sad time. May you find comfort in your precious memories of your dad

Ann Edwards & family

(almost 3 years ago)
Elaine, I'm so sorry about the death of your dad.

Colleen Greene Pretko

(almost 3 years ago)
Judy & family, please accept our deepest sympathy on the loss of your dad. May your memories help you through this difficult time

Mike & mary lou Orlando

(almost 3 years ago)
A wonderful man that I'm glad I had the opportunity to spend time with. He will be missed.

Kristen Nawrocki

(almost 3 years ago)
Judy and family so sorry for your loss

Marianne Aruscavage

(almost 3 years ago)
Sorry to hear of the passing of your dear father. God bless him and may he rest in peace.

Nowakowski Family

(almost 3 years ago)
I am so sorry to hear of Mr. Hastie's passing. He was a dear, sweet man. May God's love comfort the family at this time. I pray for peace in your hearts. Love to all. Denise

Denise Jenkins Barnard

(almost 3 years ago)
Sign the Guestbook