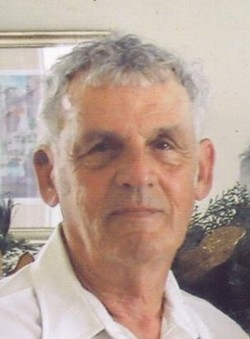 Mr. Dominick Occhiato, 79, of West Pittston, went home to be with the Lord on Thursday, August 5, 2021, after passing away unexpectedly at home.
Born in West Pittston, he was the son of the late Joseph and Margaret Godleski Occhiato, was a graduate of West Pittston High School and Bethel Community College, McKenzie, TN. He served in the United States Army during the Vietnam War and was retired from the Social Security Administration, Wilkes-Barre.
Dominick was a member of the By the Grace of God Fellowship Church and its music ministry. He loved playing the piano and singing, walking, golfing with his friends at Emanon Golf Club, but most of all he loved the Lord.
He was preceded in death by his parents, his wife, Ann Marie Soricelli Occhiato and his faithful companion Cody.
Surviving are:
Sister Marlene Mikiewicz and her husband, Joseph, of Duryea
Brother, John Occhiato and his wife, Marge, of Derby CT
Sister, Patricia (Patti) Morris and her husband, Kenneth, of Dallas
Nieces and nephews
A service will be held on Sunday, September 12, 2021, at 10:30 am in the Full Gospel Church, Main Street, Avoca, by Pastor Tracey Thornton. Following the service, a celebration of Dominick's life will be held for family and friends at 215 Luzerne Ave., West Pittston. (approximately at 1:30 pm) Interment services will be held on Monday, September 13, 2021, at 10:00 am in Mt. Olivet Cemetery, Carverton, by Pastor Tracey Thornton. Arrangements are by the Bernard J. Piontek Funeral Home Inc., 204 Main Street, Duryea. To leave an online condolence for Dominick's family, please visit the funeral home website
www.piontekfuneralhome.com.
PLEASE NOTE: YOUR ONLINE CONDOLENCE WILL NOT APPEAR UNDER THE GUESTBOOK ENTRIES UNTIL IT IS APPROVED BY THE FUNERAL HOME
Guestbook Entries
To Dominick's family: I enjoyed playing golf with Dominick many times at Emanon. He was an excellent player in his time but like many of us lost a little distance over the years. I recall one instance where he wandered out to the Blue tee on the difficult 8th hole and when I asked him what he was doing on the back tee he said "just reminiscing Joe" with that intriguing smile on his face. I know he is in a better place now playing golf or the piano in heaven. My condolences to his entire family. He will be truly missed.

Joe Graham

(about 1 month ago)
A long time friend, a gentle soul, and a strong moral code. He loved talking about his deep faith. Never in a way that was meant to impose it upon others but only in a way that spoke to its adding comfort in his own life. His honest commitment and dedication was inspiring and no doubt has carried him to a better place. " . . . and flights of angels sing thee to thy rest!"

Philip A. Dente

(about 1 month ago)
To the Occhiato Family: I so sorry for the loss of your brother, Dominick. I will keep all of you in my prayers. May he Rest In Peace.

Nancy Manganello Faltyn

(about 1 month ago)
Patti, I am so sorry for your loss. Please accept my sincere condolences to you and your family.

Sherry Rule Emershaw

(about 1 month ago)
My condolences to his family. RIP Dom.

Butch Ristagno

(2 months ago)
Sign the Guestbook