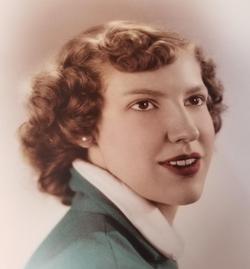 Mrs. Dolores Nitowski, 82, of Duryea, passed away Saturday, September 1, 2018, at Geisinger Wyoming Valley Medical Center surrounded by her loving family.
Born in Scranton, Dolores was the daughter of the late Charles and Regina Phillip Zuchleski and was a graduate of Scranton Tech High School. During her years at Schott Optical, Dolores made many lifelong friends.  After retiring from there, she went on to work a few days a week at Family Pharmacy, Duryea.
Dolores was a member of Nativity of Our Lord Parish, Duryea. She was an active, dedicated member of the Nativity Women's Society as well as a devoted member of the Parish Prayer Chain.
Dolores was truly a matriarch, always putting her family first. She would teach them little tid bits here and there, collecting newspaper clippings that they could learn something from. There was never a time a family member would leave her house without something saved just for them including a continuous supply of socks. She taught them the proper way to pinch pierogies, how to make the best meatballs ever, and wrap baked goods in the perfect amount of Saran Wrap (that last one they're still trying to get just right).
Holidays were her favorite time of year for continuing traditions and bringing her family together. The best part of Christmas Eve celebrations was receiving her recycled Christmas cards from years passed (only the fronts!), always in brand new, perfectly sized envelopes, and debating who got the best one. (Her family vows to solve the mystery of her envelope supplier.)
She was preceded in death by her daughter in law, Tina Linn and her sister, Barbara Czyzyk.
Dolores and her husband, Ben, just celebrated their 63rd Wedding Anniversary on July 30th.
In addition to her husband, Dolores is survived by:
Son, Dr. Leonard Nitowski and his wife, Dianne Balkaran of Wilmington, DE
Son, Bernard Nitowski Jr. and his wife, Jane, of Duryea
Daughter, Marie Carmadella and her husband, Frank, of Duryea
Grandchildren:
Frankie and Tara Carmadella
Amanda, Alex and Jenna Nitowski
Diana and Laura Nitowski
Nieces and nephews
A Mass of Christian Burial will be held on Saturday, September 8, 2018, at 9:30 am in Holy Rosary Church, 127 Stephenson Street, Duryea. A viewing will be held on Friday evening from 6:00 pm to 8:00 pm at the Bernard J. Piontek Funeral Home Inc., 204 Main Street, Duryea. Everyone is asked to please go directly to the church the morning of the funeral. To leave an online condolence for Dolores's family, please visit the funeral home website, www.piontekfuneralhome.com.
PLEASE NOTE: YOUR ONLINE CONDOLENCE WILL NOT APPEAR UNDER THE GUESTBOOK ENTRIES UNTIL IT IS APPROVED BY THE FUNERAL HOME
Guestbook Entries
My most sincere condolences to the family in the death of this dear, loving , kind woman, who will be obviously missed by so many. She sounds like she had so many friends and family, who loved her beyond measure. God hold her now !

Sylvia r. Nitowski

(11 months ago)
So sorry for your loss, she was a sweet, kind person. RIP

Joseph and Patricia Hines

(11 months ago)
Our Sympathy and Prayers to all the Family. She was a wonderful person and she will be missed.

Joe and Liz Zbylicki

(11 months ago)
Bernie , just found out about the loss of your mom ! Our deepest sympathy goes out to you ,Jane , and your whole family , especially your Dad , Leonard and his family , and Marie and her family ! May she Rest In Peace and may God be with all of you at this time of sorrow ! Our thoughts and prayers are with you !

Dennis and Robin Pesotini and Family

(11 months ago)
With our deepest sympathy, may it bring you comfort to know that we are so very sorry to hear of your loss. You're in our thoughts, no and in the days to come. May your mother/grandmother Rest In Peace. God Bless all of you. All our love and prayers.

Larry and Terry Martin and Family

(11 months ago)
So very sorry for the loss of such a wonderful woman . Our thoughts and prayers are with you all.

Paula and Joseph Boyko

(11 months ago)
My deepest sympathy to Dolores' family. You were blessed to have such a fine woman as a part of your lives. I was blessed to know her and learn from her. May God bless her in His heavenly care.

Peter Olsheski

(11 months ago)
Ben and family, Sorry for your loss. Sending prayers.

Mary Ann Resavy Sapolis

(11 months ago)
Dolores was a very special extraordinary person/friend, beautiful person. Her kindness shown to my daughter Angela and to me. She will always be in our hearts. Please accept our deepest sympathies, and are in our thoughts and prayers.

ANGELA AND ANGIE SCHUH

(11 months ago)
Dolores was a kind, considerate and compassionate individual. She will be missed by all. Prayers and condolences to her husband Ben and the entire family. God Bless.

Valerie Olszewski

(11 months ago)
Dolores was a very warm thoughtful "in-law" and was always there with a card or a note or a letter in the tough times in our lives. We didn't get to see her very often but miss her presence all the same and grieve for her family. Rest peacefully, Dolores.

Jane and Bruce Linn

(11 months ago)
So sorry for loss everyone. Sending prayers

Justin Tonte

(11 months ago)
Delores was a wonderful woman who worked tirelessly for our parish. May she rest in peace.

Judith Nowakowski

(11 months ago)
Dolores will always be remembered for her kindness shown to my daughter, Anna, during all the pierogis making sessions. We are very sorry for your loss

Cindy Pietrowski

(11 months ago)
Dolores' care, love and concern for everyone is something i will cherish from getting to know her over the last 10 or so years. She served our parish so beautifully. I am grateful to all she has taught me about pierogie pinching, dough making, pierogie paxking and so much more. She always had something new to share from a show she watched or something she read. She always had snacks for us during Food Prep. She was regularly an early bird and last one to leave. I am sure she earned her spot in heaven. Thank you for sharing her with us. Her smile will be missed. Love and prayers. Jef Bauman

Jef Bauman

(11 months ago)
Hello, I want to say I'm very sorry for the loss of your loved one. But I want to bring you hope and comfort by what the bible says will happen for everyone who passed away in death. Revelation 21:4 says how God "will wipe out every tear from our eyes, and death will be no more, neither will mourning or outcry or pain be anymore, the former things have passed away." So one day, Jehovah God will do away with sickness, pain, old age, and death forever. Acts 24:15 also mentions that "there will be a resurrection of the righteous and unrighteous". This means all who have died, like all my relatives and your relatives, will get a chance to live again, here on earth (Psalms 37:29). I do hope that I brought you some comfort. Jehovah's witnesses in your local area can bring you more comfort from the bible, to help you cope with whatever tragedies you may be faced with. You can visit www.jw.org if you want more comfort, or have someone visit you as well.

Roger Baldeosingh

(11 months ago)
Sign the Guestbook