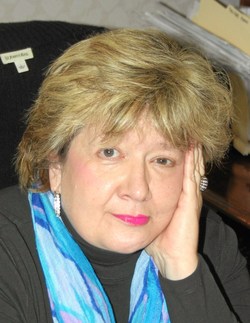 Ms. Diane L. Marcinko, of Taylor, formerly of Duryea, passed away Monday, November 17, 2014, at her home.
Born in Pittston, she was the daughter of Audrey Collier Marcinko of Duryea and the late William H. Marcinko. She was a graduate of Pittston Area High School and Wilkes University. She was currently employed as the business office manager at Willowbrook Senior Living Community, Genesis Health Care, Clark Summit. She was previously employed by Prudentail Bache, Moosic, and was the owner of Dolce Vita Restaurant, Old Forge.
Diane was a loving daughter who enjoyed spending time with her mother. She and her mother enjoyed many shopping trips to Macy's.
In addition to her mother, Diane is survived by aunts, uncles and cousins.
A memorial service will be held on Saturday, November 29, 2014, at 11:00 am at Holy Cross Episcopal Church, Wilkes-Barre, by Rev. Timothy Alleman. Interment will be in Marcy Cemetery, Duryea. There will be no public calling hours. Arrangements are by the Bernard J. Piontek Funeral Home Inc., 204 Main Street, Duryea. To leave the family an online condolence, please visit the funeral home website, www.piontekfuneralhome.com. In lieu of flowers, the family requests that memorial donations may be made to Holy Cross Episcopal Church, 373 North Main Street, Wilkes-Barre, PA 18702.
Guestbook Entries
May your daughter rest in peace in the arms of God. I am sorry for your loss, Audrey.

Lorraine. Music

(over 4 years ago)
Mrs. Marcinko, please accept my sincere sympathy for Diane's passing. I'll never forget coming to your house and waiting for Diane to go to the bus stop for school.I also had the privelidge of being one of the first to sample many of her new recipes too. She will be missed by many. God bless.

Joanne Phillips

(almost 5 years ago)
Audrey, I just heard of Diane's passing and so sorry for your loss. We, will all miss her wonderful sense of humor. She was my client and friend. She always made me chuckle. She was beautiful inside and out

claire abbott

(almost 5 years ago)
Audrey...I am so very sorry for your loss. Diane was such a good person and I will always treasure the times we would sit in her restaurant,share a coffee and talk about everything under the sun. Although she lwft us all too soon, we can take comfort that she is resting with our Heavenly Father. May He give you comfort in your grief as well.

Denise Decker

(almost 5 years ago)
Audrey, I remember Diane as a kind, considerate, compassionate individual. She will be remembered in my prayers. May she rest in eternal peace in the arms of Our Lord and His Blessed Mother. My heartfelt sympathy to you and your family in your loss.

Valerie Olszewski

(almost 5 years ago)
Dearest Audrey, Please accept my deepest condolences for your family's loss. Even though I did not know your daughter personally, she was no doubt a great reflection of the love of her magnificent mother! May your memories of your beautiful daughter give you peace and comfort at this difficult time. I am thinking about you and sending love. You and your family are surrounded by love during this difficult time. I am here for you. Please let me know if I can help in any way.

Alice Tomshaw

(almost 5 years ago)
Dearest Audrey, Please accept my deepest condolences for your family's loss. Even though I did not know your daughter personally, she was no doubt a great reflection of the love of her magnificent mother! May your memories of your beautiful daughter give you peace and comfort at this difficult time. I am thinking about you and sending love. Remember you and your family are surrounded by love and friendship. I am here for you. Please let me know if I can help in any way.

Alice Tomshaw

(almost 5 years ago)
Audrey I don't know Diane or how you were related, we are sending our condolences to you and your other famil members.

Mary/Bob Ryan

(almost 5 years ago)
Dear Audrey, My heart goes out to you. I was such good friends with Diane, she made me laugh and I will miss her so much.

Candice Chilek-Marr

(almost 5 years ago)
Sign the Guestbook