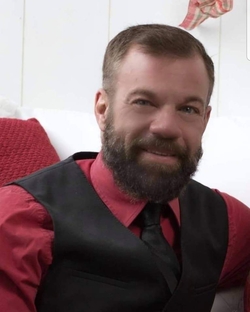 Mr. David Tomasetti, 53, of Old Forge, passed away Friday, October 23, 2020.
Born in Duryea, he was the son of Marilyn Maszeroski Mlodzienski and her husband, David of Duryea and the late Lee Carl Tomasetti Sr. He was a graduate of Old Forge High School, Class of 1985 and the University of Scranton, Class of 2020, where he majored in journalism and was among more than 2,000 that made the Deans List. David was inducted into Lambda Pi Eta, the National Honor Society for Communication Majors.
He was a member of Nativity of Our Lord Parish, Duryea.
David was an avid Dallas Cowboys fan.
In addition to his father, he was preceded in death by his brother, Lee Carl Tomasetti Jr.
Surviving in addition to his mother and her husband are:
Son, Alessio Tomasetti of Old Forge
Brother, Dino Tomasetti Sr. and his wife, Shelly, of Duryea
Sister, Lori Geller of Boca Raton, Florida
Nephew, Dino Tomasetti Jr. of Moosic
Nephew, Teig Geller of Boca Raton, Florida
Nephew, Jace Geller of Boca Raton, Florida
Partner, Jocelyn Soronen of Old Forge
Step son, Omar Olson of Florida
Aunts, uncles and cousins
A Mass of Christian Burial will be held on Saturday, October 31, 2020, at 9:30 am in Holy Rosary Church, 127 Stephenson Street, Duryea with the Rev. John Polednak officiating. Interment will be in Holy Rosary Cemetery, Duryea. There will be no viewing. Arrangements are by the Bernard J. Piontek Funeral Home Inc., 204 Main Street, Duryea. To leave an online condolence for David's family, please visit the funeral home website, www.piontekfuneralhome.com.
PLEASE NOTE: YOUR ONLINE CONDOLENCE WILL NOT APPEAR UNDER THE GUESTBOOK ENTRIES UNTIL IT IS APPROVED BY THE FUNERAL HOME
Guestbook Entries
So sorry for the loss of Dave. I have not been in the area for many years, and I only heard in the last day when somebody reached out to me. He was a great friend. A smart, talented, and creative person. My deepest sympathy. Jim DeAngelo

Jim DeAngelo

(13 days ago)
I am so sorry to hear about David. I remember our families growing up together.

Andrea Thiede Cooper

(19 days ago)
Dave — I represented you , and you worked for me , researching , investigating, advising me.You always showed respect and loyalty. A couple of weeks ago you spoke to me just to check in and you still called me "boss." We were friends a long time and I was your father's friend since we were classmates at the Old Forge Gym Elementary School in the Class of 1954.You never stopped learning, educating and trying to overcome so many setbacks and challenges. For that you earned my respect and admiration. The whole office —Dave, Lindsay, Joyce , and Connie all looked on your energy and your passion and insight with an engaging smile and warm repartee , and you loved this. Dave — you will be missed and there will always be fond memories of you in our hearts. Our deepest condolences to your family .May God bless you and may God grant comfort and strength to them to deal with their great loss. We love you Dave.

Attorney Ernie Preate jr.

(24 days ago)
Although I never met you in person, you were always consistent with your kindness and warm heart. A really great guy who the world is poorer for being without, and it's still hard to believe you've gone. I'll miss you. Rest in Peace dear friend

Jules (Cherry)

(25 days ago)
Sorry for your loss Marilyn, David and family.

KEVIN CHROMEY

(25 days ago)
I am so deeply saddened for all of you about David's passing... I pray that he rests in eternal peace.

Dana Krafchin

(26 days ago)
Rest in peace my friend. "Rambis" My thoughts and prayers to everyone

Joe Chaiko

(26 days ago)
I am so sorry for your loss, hugs to everyone

Christy Ellsworth Teasdale

(26 days ago)
Rest easy Dave, the heavenly sky gained another star, keep shining.

Vanessa Vergnetti Thomas

(26 days ago)
So sorry.

Kimberly Cashmere

(26 days ago)
So sorry for your loss. My thoughts and prayers go out to your family.

Andrea Barycki

(26 days ago)
Rest in piece David. You will not be forgotten.

Tom Piccoletti

(26 days ago)
So sorry for your loss, may David Rest In Peace. Prayers to his family & those close to him.

Margaret Ellsworth Robbins & Family

(26 days ago)
RIP Dave. We will keep fighting the fight in your honor!!

Amanda Chase

(26 days ago)
So sorry for your loss, your in my prayers,may he R I P.

Frank Lettieri

(27 days ago)
Rest In Peace

C

(27 days ago)
So sorry for your loss. My heart goes out to Dino and Lori and the rest of the family. May he Rest In Peace and be reunited with his brother.

Lisa Monacelli Weitz

(27 days ago)
I'm so so so sorry. I can sit here and write for hours how much I admired you. I hope you find the peace you where looking for. I love you.

- Cami

(27 days ago)
Rest in piece Dave. You were loved beyond words.

Amy Thomas

(27 days ago)
Peace, love and healing to all who lost a great friend and family member... Dave,. You will be missed may God watch over your family

Dawn Materazzi

(27 days ago)
Ride easy my friend

Chris Peet

(27 days ago)
Can't believe I'm reading this my friend, you were a always a good man and good father may you RIP, you will be missed

Jerry Riviello

(27 days ago)
May he Rest in Paradise God Bless

Cathy Kearney

(27 days ago)
-Deeply sadned, so sorry for you loss

Nicholas DeGeorge

(27 days ago)
Dave was a brother to us and we have lost a piece of our souls with him. We will continue to look out for his son and make him proud. We love and miss him so much.

Candice and Ramy Gad

(27 days ago)
So sorry for your loss God Bless you and your family.

Morris Slatky

(27 days ago)
Sign the Guestbook