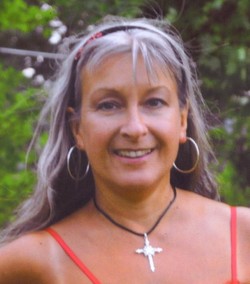 Mrs. Danita A. Klime, 65, of Clark Summit, passed away Saturday, July 17, 2021, at Linwood Nursing and Rehabilitation Center, Scranton.
Born in Pittston, she was the daughter of the late Eugene and Shirley Poremba Zambor and was a graduate of Pittston Area High School.
She was a member of Nativity of Our Lord Parish, Duryea.
Danita enjoyed spending time with her family, but the real light of her life was her grandson, Grayson.
Her and her husband, Jeffrey, celebrated their 25th Wedding Anniversary this past October 31st. Danita and Jeffrey were truly blessed to be the love of each others life.
Surviving in addition to her husband are:
Son, Christopher Voveris and his husband, James Silfee, of Laflin
Grandson, Grayson Voveris
A Mass of Christian Burial will be held on Friday, July 23, 2021, at 9:30 am in Holy Rosary Church, 127 Stephenson Street, Duryea with the Rev. John Polednak officiating. Interment will be at the convenience of the family. There will be no viewing. Arrangements are by the Bernard J. Piontek Funeral Home Inc., 204 Main Street, Duryea. To leave an online condolence, please visit the funeral home website, www.piontekfuneralhome.com.

PLEASE NOTE: YOUR ONLINE CONDOLENCE WILL NOT APPEAR UNDER THE GUESTBOOK ENTRIES UNTIL IT IS APPROVED BY THE FUNERAL HOME
Guestbook Entries
Magical and mystical, spiritual and wise, Donita, may your next adventure be awesome

Kara Finn

(3 months ago)
Uncle Jeff, I'm so sorry about Danita and I wish I could be there.

Jim Reardon

(3 months ago)
We are so sorry for the loss of your mother. May God give you strength and remember the wonderful times, may she Rest In Peace.

Felix and Pat Zelenowski

(3 months ago)
I AM TRULY SORRY FOR YOUR LOSS.Danita had a kind heart.She left a lot of love to all she touched. May God grant you peace.

DONNA Whispell Mack

(3 months ago)
My sincere condolences to the family and many prayers to all.

Alba Myers

(3 months ago)
I was in Linwood Nursing and Rehabilitation Center when Danita was there and we became friends.So sorry to hear of her passing.My thoughts and prayers are with you all.

Elizabeth Davis

(3 months ago)
I am so very sorry for your loss Jeff. You are in my thoughts and prayers.

Patti Klimasiewfski

(3 months ago)
Dear Jeff & Family, So sorry for your loss. May Danita rest in peace and may all your beautiful memories give you strength and peace.

The Bellanca & Joivell Family

(3 months ago)
So sorry for your Loss. She was a kind hearted person. She will be missed by many.

Karl Milcavage

(3 months ago)
Danita and I were classmates in the 7th grade at PHS. I moved out of state after 7th grade but Danita and I remained friends ever since. We wrote letters, called and I would come back to visit and our friendship was always the same. It was like I never left. I will miss her dearly. Prayers for Jeff, Chris and family.

Mary Ann (Silka) Kudrak

(3 months ago)
Condolences to all of your family. Sincerely.

Lee Ann and Carl Hoffner

(3 months ago)
We are so very sorry to hear of the loss of your loved one. Prayers for all and may Danita rest in peace.

Gus, Renee DePietro and Family

(3 months ago)
So sorry for your loss.we were classmates(class73)

Linda (Kemler)wruble

(3 months ago)
Sorry Jeff I accidentally put mike in my comment

Nicholas Gagnon

(3 months ago)
Hi I'm a bricklayer out of Boston, I just wanted to sign the guest book and say my thoughts and prayers are with you Mike and your family and friends. So sorry for your loss. Stay strong brotha!

Nicholas Gagnon

(3 months ago)
Sorry for your loss, hopefully you will find the strength to carry on.

Thomas Laboranti

(3 months ago)
God Bless Danita. RDFLYC

Matt Tinkler

(3 months ago)
Prayers for all the family, in your time of loss.

Danny White

(3 months ago)
Sign the Guestbook