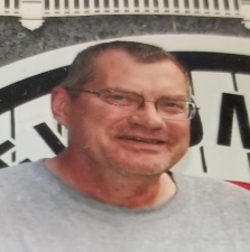 Mr. Daniel Stephen Young, 60, of Pittston, passed away Friday, August 4, 2017, at his home.
Born in Wilkes-Barre, he was the son of the late Howard and Jeanette Smith Young. He was a graduate of Pittston Area High School. He served in the United States Army. Prior to his retirement, he was employed as a truck driver for various local companies.
He was a member of St. John the Evangelist Church, Pittston.
He was a loving husband, father, brother and uncle. He enjoyed sports, especially the New England Patriots. He was a former coach for the Pittston Panthers.
He was preceded in death by his sister, Nowell Hann.

He and his wife the former Patricia Jordan celebrated their 29th Wedding Anniversary this past June 4th.
In addition to his wife, he is survived by:
Son, Stephen Young of Pittston
Daughter, Ashley Young of Pittston
Sister, Geraldine Roxby and her husband, Eugene, of Hughestown
Sister, Rachel Murawski and her husband, Raymond Jr., of Falls
Nieces and nephews
His dogs, Cooper and Penny
A Mass of Christian Burial will be held Wednesday, August 9, 2017, at 10:00 am in St. John the Evangelist Church, 35 William Street, Pittston. Interment will be in Mt. View Cemetery, Harding. Friends may call on Tuesday from 6:00 pm to 8:00 pm at the Bernard J. Piontek Funeral Home Inc., 204 Main Street, Duryea. Family and friends are asked to go directly to the church the morning of the funeral. In lieu of flowers, memorial contributions may be made to the Care and Concern Clinic, 37 William Street, Pittston, PA 18640. To leave the family an online condolence, please visit the funeral home's website, www.piontekfuneralhome.com.
PLEASE NOTE: YOUR ONLINE CONDOLENCE WILL NOT APPEAR UNDER THE GUESTBOOK ENTRIES UNTIL IT IS APPROVED BY THE FUNERAL HOME
Guestbook Entries
My sincere condolences to the Young family. There is little to say to ease your pain during this difficult time. May the fond memories of the times you shared bring you comfort and peace. We can look forward to the time when God will wipe away our tears and swallow up death forever found at Isaiah 25:8. My deepest sympathy to you all.

Lora

(almost 3 years ago)
Take consolation knowing someday you will be together again.

Diane Laibinis

(almost 3 years ago)
Michelle so sorry to hear of your uncles passing. God rest his soul. Rest In Peace.

Mike and Liz Ross

(almost 3 years ago)
Patty, I am so sorry about Dan's passing. I remember seeing you both at Anita and my wedding and i could see the love you had for each other, just the way you looked into each other's eyes. A look you cannot disguise. Let me know if I can help. I always thought Dan was one of the nicest people I ever met.

Mike Tillotson

(almost 3 years ago)
Rest In Peace, Dan. Watch over your family and ask God to give them the strength they need until you are all together again.

AnnMarie LaFratte

(almost 3 years ago)
Very sorry for your loss Patty, you fought every battle with him. You and your family will be in my prayers.

Leane Pace

(almost 3 years ago)
Patty, Stephen, and Ashley so very sorry for your loss. Prayers to you and your family may he rest in peace !

Dolores Levanavage

(almost 3 years ago)
Patty I am so sorry for your loss.Praying for you and your family.

Toni Belles

(almost 3 years ago)
Patty, I know this is a very hard time for you and your family, but take solace in knowing that Dan is now in peace and free of pain. You did all you could for him. If you need someone to talk to, I'm here.

Ann Reese

(almost 3 years ago)
We are so sorry to hear that Dan has passed away. We know this is a difficult time for you and your family. Our prayers will be with all of you. Our deepest sympathy. Love, Frankie and Carmen

Frank and Carmen Maloney

(almost 3 years ago)
Patty may God bring you peace and understanding. My sincere sympathy to you and your family. May God hold you near at this time.I am so very sorry for your loss.

Rose Pilch

(almost 3 years ago)
Aunt Gerry & Uncle Eugene,Ray & I am so sorry to hear of ur loss .sending our thoughts and prayers to you and your family

Ray & Raynee

(almost 3 years ago)
So very sorry Patti. Sincere sympathy and many prayers for you and your family.

Becky Raymer

(almost 3 years ago)
I am so very sorry for your loss. My thoughts and prayers are with you.

Ruth Morris

(almost 3 years ago)
I am very sorry for your loss Patty. My prayers go out to you and your family.

Mary Jean Steransky

(almost 3 years ago)
Dan always made us laugh, he will be will sorely missed. Patty please know that even though we are so far away we are with you in spirit. Distance does not lessen the loss we feel. We will keep you and yours in our prayers.

John and Lisa Jordan

(almost 3 years ago)
I am so very sorry for your loss. He was such a nice person. I only met him twice but he could not have been more kind & friendly & so funny. He will always be in your heart. Sending love, prayers & comfort to you & your family. Everyone at SSA is feeling your heartbreak, you are not alone.

susan vroblefsky

(almost 3 years ago)
I am so very sorry for the loss of Dan! Sympathy and prayers for you and your children. Cherish your memories.

Jo Ann Stesney

(almost 3 years ago)
God bless you and your family, Patty. My thoughts and prayers are with you all.

Kathy Meyers

(almost 3 years ago)
Blessed Strength to You & Children. May God lead Dan to Peaceful Rest

Kathy Wehr

(almost 3 years ago)
Patty and family...I am so sorry for your loss. Keep Dan alive in your hearts...RIP Dan.

Maribeth Obitz

(almost 3 years ago)
patti and steve i'm very sorry for your loss dan was a great guy father and he was a great freind to me

bob ciaston

(almost 3 years ago)
Patty I am so sorry for your loss. May God bless you and your family. Stay strong.

Pat santarelli

(almost 3 years ago)
My prayers and condolences to you and your family. May he be in no more pain . RIP Dan

Barbara Neiman

(almost 3 years ago)
Uncle Dan will be missed deeply and remembered always. You are in my every waking thought, Aunt Patty. I love you, Stephen, and Ashley so very much. May God help you all through this difficult time.

Tiffany Moore

(almost 3 years ago)
I am so very sorry for your loss. God Bless you and your family.

Michele Sebastianelli

(almost 3 years ago)
Rest in Peace Dan! I'm so sorry Patty, Stephen and Ashley!

TERESA (HEALEY) MICHAELS

(almost 3 years ago)
I'm sorry for your loss. Please know there are many people who love you.

Carol Swanson

(almost 3 years ago)
God bless you and your family Patty....Dan as your guardian angel will be along your side for protection and health like you have given him throughout these hard months. May he rest in peace. You are in my prayers.

Alisha Seely

(almost 3 years ago)
I am so sorry for you and your family's loss Patti. Danny was such a great guy! He will be so missed. My deepest sympathy and my prayers are with you all.

Sharon Tonte

(almost 3 years ago)
Sign the Guestbook