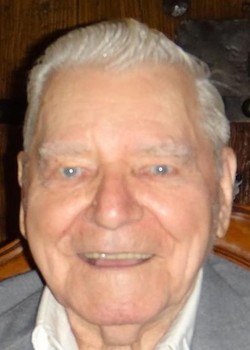 Mr. Clement W. Ruda, 103, of Duryea, passed peacefully on Saturday, May 28, 2022, at his home.
Born in Dupont, he was the son of the late Klemens and Katherine Babiarz Ruda. Clement served with the 33rd Infantry Division, which saw action in Luzon and New Guinea in the Pacific Theater during World War II. Prior to his retirement, he was employed by Suburban Propane, Pittston.
He was a member of Nativity of Our Lord Parish, Duryea. He was a member of the V.F.W. Post 1227 and the American Legion Post 585, both of Duryea.
Foremost in Clement's life was his family. His positive attitude was an inspiration to us all, including his knack for remembering and creating jokes. His favorites were bowling, polka dancing and watching golf.
He was preceded in death by his wife, the former Josephine Baron, who passed away on November 30, 1986, brothers, Joseph, Stanley, Peter, Frank, George and Edward and sisters, Mary Dziuba and Ann Gola. His sister, Lottie Sworen, passed away on May 31, 2022.
Surviving are:
Daughter, Barbara Zack and her husband, David, of Henderson, NV
Daughter, Vivian Cleveland and her husband, Daniel, of Scranton
Son, Warren Ruda and his wife, Mary, of Kingston
Grandchildren:
Christine Zack Gundersen and her husband, Judd
Elizabeth Zack Kumar and her husband, Anchal
Melissa Meza and her husband, Enrique
Elizabeth Ruda
Patrick Ruda
Step grandchildren:
Danny Cleveland
Kelly Kern
Andrew Cleveland
Stephen Cleveland and his wife, Lauryn
Great grandchilden:
Bergen Gundersen
Reya Kumar
Step great grandchildren
Kennedy and Camryn Kern
Drew Cleveland
Jacob, Julianna and Madelyn Cleveland
Many nieces and nephews
Clement and his family appreciated the care and friendship he received from Theresa, Leona, Jill, Ann, Cristin, Wendy, Christy and Roxanne, their attentiveness and thoughtfulness were extraordinary. A sincere thank you to Dr. Guy Fasciana and his staff for their care and concern throughout the years.
A Mass of Christian Burial will be held on Saturday, July 23, 2022, at 11:00 am in Holy Rosary Church, 127 Stephenson Street, Duryea with the Rev. Michael Bryant officiating. A viewing will be held from 10:00 am to 11:00 am at the church. The Greater Pittston AMVETS will conduct military services the morning of the funeral. Internment will be in Mt. Olivet Cemetery, Carverton. Arrangements are by the Bernard J. Piontek Funeral Home Inc., 204 Main Street, Duryea. In lieu of flowers, memorial contributions may be made to Holy Rosary School, 125 Stephenson Street, Duryea, PA 18642. To leave an online condolence for Clement's family, please visit the funeral home website, www.piontekfuneralhome.com
PLEASE NOTE: YOUR ONLINE CONDOLENCE WILL NOT APPEAR UNDER THE GUESTBOOK ENTRIES UNTIL IT IS APPROVED BY THE FUNERAL HOME
Guestbook Entries
Warren & family, My prayers & sympathy go out to you & your family..I always enjoyed speaking to your father on his porch when I would walk by on his street...He was such a nice friendly person...Hope you & your family are healthy & happy...Enjoy life!! Peace & Sympathy, Rita

Rita Skechus

(10 months ago)
Irene and John Zimich extend our sincere condolences to Warren and family members. Didn't know Mr. Ruda but from what I read he was a wonderful man and loved by everyone. To be 103 and part of the Greatest Generation in serving and fighting for his country in World War II is something very special. Memory Eternal" May he rest in peace in Heaven with his deceased love ones.

John Zimich

(11 months ago)
Clem was a wonderful and sweet man! We looked forward to seeing his wonderful smile when he walked into church. Our thoughts and prayers are with everyone.

Joe & Hermine DeAngelo

(11 months ago)
He always had that smile. Would always see him at the Frank's Barbershop and get the update on the family. Thoughts and prayers to Warren and his sisters!

David Guarilia

(11 months ago)
Loved by our Family for 100 years +. Do Sto Lat.

Borkowski Family

(about 1 year ago)
Sign the Guestbook