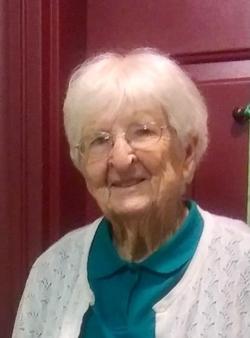 Mrs. Clare Angela Kane, 95, of Mechanicsburg, formerly of Duryea, passed Monday, December 6, 2021, at Penn State Holy Spirit Hospital, Camp Hill.
Born in Avoca, she was the daughter of the late Joseph and Helen Maloney Mullaney. She was a graduate of Duryea High School and Moses Taylor Hospital School of Nursing.
She was a member of St. Joseph's Parish, Mechanicsburg and Nativity of Our Lord Parish, formerly Sacred Heart of Jesus Church, Duryea.
She was preceded in death by her husband of 68 years, Edward, who passed away on March 13, 2015 and one sister, Rosemary Bergstrom.
Surviving are:
Daughter, Ellen Kane of Mechanicsburg
Daughter, Laure Kane of Harrisburg
Daughter, Judith Irwin and her husband, Hugh, of Harrisburg
Granddaughter, Lauren Jenkins and her husband, Isaac, of Grandview, Missouri
Nieces and nephews
A Mass of Christian Burial will be held on Friday, December 10, 2021, at 11:00 am in Holy Rosary Church, 127 Stephenson Street, Duryea by her cousin, Rev. Thomas Maloney. Interment will be in St. Mary's Cemetery, Avoca. There will be no viewing. Arrangements are by the Bernard J. Piontek Funeral Home Inc., 204 Main Street, Duryea. To leave an online condolence for Clare's family, please visit the funeral home website, www.piontekfuneralhome.com.
PLEASE NOTE: YOUR ONLINE CONDOLENCE WILL NOT APPEAR UNDER THE GUESTBOOK ENTRIES UNTIL IT IS APPROVED BY THE FUNERAL HOME
Guestbook Entries
Ellen and Family. Sorry to hear of your mom's passing away. Kind and generous with her love and prayers. Hoping your memories are a blessing. Jef & Amanda Bauman

Jef & Amanda Bauman

(8 months ago)
Mrs. Kane was such a special lady. Very friendly and pleasant. My sincere condolences to Ellen and her family.

Jackie Scalzo

(8 months ago)
Sending deepest sympathy, and keeping Claire and all who love her in my prayers. Our families' friendship goes back more than a century on York Avenue.

Mary Frances (Donley) Forcier

(8 months ago)
So sorry about your Mom, we were all close neighbors on York Avenue. She will be greatly missed.

Regina (Felter) Frederickson, John, Joseph and Gerry

(8 months ago)
So sorry to hear of her passing

john rowlands

(8 months ago)
Our deepest sympathy,she was a super lady.We have great memories of growing up on York Ave

Bill and Mary Kay Brady

(8 months ago)
To Claire's family.. we are sorry to hear of Her passing Claire and Ed were a great couple.. dedicated to God and family… Claire Tom and myself volunteered together on many Sacred Heart projects… always a kind voice of knowledge… May God grant her eternal rest!

Judy and Tom Lambert

(8 months ago)
So sorry for your loss Ellen and family.

Lorrie Slatky

(8 months ago)
I love you and miss you, Grandma!

Lauren

(8 months ago)
Very sorry for your loss. May your Mom Rest In Peace.

Mary Ann Lazar

(8 months ago)
So sorry to hear of your loss.she certainly was a very nice,kind lady.sending hugs and prayers

Linda(kemler)wruble

(8 months ago)
So sorry to hear of your loss , many great memories of her and the family ,York Ave. Just sent another angel to watch over all of you !I sure miss her since she moved ,the neighborhood is not the same ! God bless you all !!

Mary jane (nayavich) margavage

(8 months ago)
God gained another angel. Clare was a very special woman.

Cathy Rusnok

(8 months ago)
Ellen and family , sending prayer and condolences to you all your mom was a wonderful person .

Mary lou fereck

(8 months ago)
My heart is broken - my "other mother" has gone to heaven. May you Rest in Peace along with Ed, Doris, Joe, Rosie, Irene and Millie (the gang at 154). I'll keep an eye on your 4 girls, Clare - don't worry! Much love.

Andrea Cool

(8 months ago)
Love you dearly Mom!

Laure

(8 months ago)
Laure and family: So sorry to hear of your loss. Our thoughts and prayers are with you. Love, Jill and Bill

Jill Sweeney

(8 months ago)
Sign the Guestbook