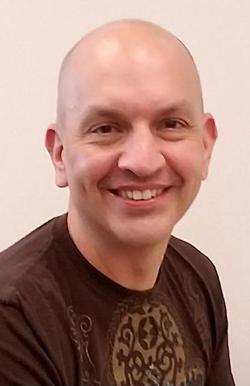 Christopher Zike (DeAngelo)
Christopher Zike (51) of Winthrop, Massachusetts passed away October 29, 2021. Chris was born and grew up in Pennsylvania, but lived for many years in the Boston area where he worked for the Museum of Science, Boston Children's Museum, and IKEA.
Tragically, the actions of a drunk driver took Chris far too soon from his family, friends, and his adopted community of Winthrop.
Chris was known to say that he had become a hearty New Englander. He loved Winthrop. And he loved everyone he met. Chris saw the world as a good place and people as good people. He wanted to help everyone. He never looked for recognition or attention. Satisfaction for Chris was knowing he had helped somebody, made something better, or simply done the right thing.
Chris enjoyed archeology, classic motorcycles, parks, and trees. Trees held a special place in Chris's heart. He thought they were a keystone to improving the environment. Planting native trees, removing invasive species, and protecting Winthrop's parks were important causes to Chris. He was an avid Star Trek and New York Giants fan.
Chris graduated from Pittston Area High School and Wilkes University. He studied archeology for many years, and traveled to excavations in Peru's southern dessert.
He is survived by his mother, Patricia Zike of Duryea, Pennsylvania, brother, James P. DeAngelo (Linda) of Wormleysburg and Eagles Mere, Pennsylvania, niece, Janelle Maxwell (Kyle) of Camp Hill, Pennsylvania, and great nephew, Henry Maxwell of Camp Hill, Pennsylvania, and many good friends.
Funeral arrangements were private at the convenience of the family. Arrangements were by the Bernard J. Piontek Funeral Home Inc., 204 Main Street, Duryea, Pennsylvania. To leave the family an online condolence, please visit the funeral home website, www.piontekfuneralhome.com. A celebration of Chris's life will be held in Winthrop at a future date. Interest in receiving notice of the celebration should be sent to jdeangelo2930@gmail.com.
In lieu of flowers, donations may be made to the Native Plant Trust, www.nativeplanttrust.org, in memory of Chris.
PLEASE NOTE: YOUR ONLINE CONDOLENCE WILL NOT APPEAR UNDER THE GUESTBOOK ENTRIES UNTIL IT IS APPROVED BY THE FUNERAL HOME
Guestbook Entries
I am so sorry to hear this awful news! I worked with Chris at the Children's Museum in the late 1990s and early 2000s. He always had encouraging words for everyone and was very dedicated to his job. I enjoyed discussing archaeology with him. He will be missed by many.

Alan Elefson

(about 1 month ago)
Pats5y and Jim, my whole family is devestated over this tragic news. Chris was a good friend for many years and a wonderful person. I thought about him often over the years and he will never be forgotten. Please accept our sincerest condolences and prayers. Suzanne, Suzanne and Anita

Suzanne Kasteleba Halko

(2 months ago)
Please accept my deepest condolences for the loss of this fine man. Chris was my friend, and one of the most sincere, honest people I have ever known. He was thoughtful, strong, and full of life. His energy brought a sense of calm, good, and reason to every situation. He was unafraid to speak up when he saw something wrong, and confident in his path forward. A truly good human, with a big heart and strong sense of self, I was lucky to know Chris during his life, and he will live on in my heart and yours.

Diana Viens

(2 months ago)
A humble and brilliant environmental steward, Chris will be missed dearly. He will be forever remembered for his conservation leadership in Winthrop. My sincerest condolences to his family.

Ana Leary

(2 months ago)
It was only in the last year that I met Chris. I didn't know him well however, what I did know of him made me want to know him better…much better. I saw a man that was Kind and Good and Selfless, looking to the greater good of others, and his community. I was looking forward to getting to share in some way in that common goal of the greater good. Chris is and will be greatly missed. His family are in my thoughts and prayers for strength in courage at this very difficult time. John 5:28,29

Carol Homeyer

(2 months ago)
I was saddened to hear of Chris' untimely passing. He was a wonderful person with a lind and loving heart. Chris was a fellow tree hugger and advocate snd I will miss him.

Marilyn Regan

(2 months ago)
My sincerest condolences on this tragic loss. His kind and gentle presence was a gift to those who knew him and his advocacy for a better Winthrop will be sorely missed.

Miriam Regan-Fiore

(2 months ago)
My condolences goes to your Family. It breaks my heart that you were taken so unexpectedly. Your memory will never leave us and live long in our hearts.

Fidel M Contreras

(2 months ago)
My deepest sympathies for your family. I worked with Chris for 9 years at IKEA. He was a great friend and coworker. He will be deeply missed.

Sandra Sousa

(2 months ago)
Im so sorry for the loss. May he rest in piece.

Roxanne H. DeAngelo

(2 months ago)
I am so sorry to hear of Chris' passing. I was friends with Chris in high school. I have many fond memories of him (He once took me for a ride in the Dairy Dan ice cream truck). He was full of positivity. I will keep all of you in my prayers.

Joe Grillo

(2 months ago)
Sign the Guestbook