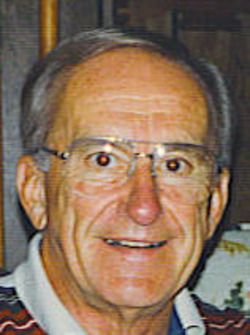 Mr. Charles P. Knopp, 85, of Pocono Pines, passed away unexpectedly Tuesday, March 28, 2017, at the Post Acute Surgical Center, Scranton.
Born in Duryea, he was the son of the late Frank and Barbara Walukonis Knopp. He was a graduate of Duryea High School and attended Temple University. He served in the United States Air Force during the Korean War. Prior to his retirement, he was employed by Tobyhanna Army Depot.
He was a member of Nativity of Our Lord Parish, Duryea.
He was a loving father, grandfather and father in law. His grandsons, Brandon and Nicholas were the apple of his eye. He enjoyed fishing, hunting, wood carving and playing the piano and accordion. He was a member of the Community Center at Lake Naomi.
Surviving are:
Daughter, Donna Knopp - Matthews and her husband, Edward, (Ted) of Dupont
Son, Charles Knopp of Elka Park, New York
Grandson, Brandon Matthews of Dupont
Grandson, Nicholas Matthews of Duryea
Funeral will be held Monday, April 3, 2017, at 11:00 am from the Bernard J. Piontek Funeral Home Inc., 204 Main Street, Duryea with the Mass of Christian Burial at 11:30 am in Holy Rosary Church, 127 Stephenson Street, Duryea. Interment will be in St. John's Cemetery, Duryea. Friends may call on Monday morning from 9:00 am to 11:00 am at the funeral home. The Plains American Legion Post 558 will conduct military services. To leave the family an online condolence, please visit the funeral homes website, www.piontekfuneralhome.com.
PLEASE NOTE: YOUR ONLINE CONDOLENCE WILL NOT APPEAR UNDER THE GUESTBOOK ENTRIES UNTIL IT IS APPROVED BY THE FUNERAL HOME
Guestbook Entries
My condoluances to the family. I, Charley and two others roomed together in Binghamton in 1959. I recall he being the neat freak of the bunch. God Bless.

Jack Connors, Binghamton, NY

(over 5 years ago)
So sorry for your loss.

Megan McHugh Bagg

(over 5 years ago)
I also retired from the depot and knew Charlie. He was a gentleman and an all around good guy. My condolences to the family.

Mario Galetto

(over 5 years ago)
Charlie - Our condolences to you on the passing of your dad. May your memories bring you comfort and may our thoughts and prayers ease you through this difficult time.

Lisa, Kevin, Olivia, Peter and Ryan Bellek

(over 5 years ago)
To Donna, Charles Michael and families, I just want to say how very sorry I am for your loss. I know you will miss your dad, but he had done his share of suffering. Even so, saying goodbye to those we love really is the hardest part of life. I have fond childhood memories of being with your family, and my mom loved surely loved you all. With Love, your cousins Lisa Musto and family

Lisa Musto and family

(over 5 years ago)
We are sorry for your loss. Please know that you are in our thoughts and prayers during this difficult time. May the many wonderful memories bring you comfort now and always. Our utmost sympathy.

Ron, Jan, & Lexy Hawkes

(over 5 years ago)
Charlie, please accept our sincere condolences on the loss of your dad. Kathy and I are very sorry for your loss.

Bob and Kathy Shostek

(over 5 years ago)
I,m so sorry for your loss Donna,Brandon he was a Great Person to everyone he will be missed by many Love Phyllis and family

Phyllis Gardner

(over 5 years ago)
Charlie was a beloved part of the Parish Family of Our Lady of the Lake/ St. Maximilian Kolbe in Pocono Pines. We have missed him greatly since the progression of his illness made it necessary for him to leave Pocono Pines. We are consoled by happy memories of this kind and generous gentleman. Rest in peace, Charles.

Tom and Lynnette Smith

(over 5 years ago)
Thank you Charlie for all of your support, belief and comrardre over the years. The breakthrough has happened. An end with a new beginning. You will forever be missed. Never forgotten.

Dr. William Chromey

(over 5 years ago)
Sign the Guestbook