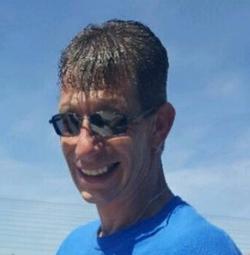 Mr. Brian Wychoskie, 41, of Duryea, passed away accidentally Friday, September 22, 2017.
Born in Duryea, he was the son of John and Elaine (Mikovitch) Gamble of Duryea and Ben and Dee Wychoskie of West Pittston. He was a graduate of Pittston Area High School, Class of 1994. He worked in construction and landscaping most of his life. He was an excellent carpenter and enjoyed keeping busy with wood working projects. He was always willing to lend a helping hand to anyone he met. He loved Nascar, hunting and the Oakland Raiders.
He was a member of Nativity of Our Lord Parish, Duryea.
He was preceded in death by both maternal and paternal grandparents and a sister, Susan Gamble.

In addition to his parents, he is survived by:
Brother, Scott Wychoskie and his wife, Lori, of Moosic
Goddaughter, Hailey of Moosic
Sister, Amy Lombardo and her husband, Len, of Exeter
Sister, Julie Roof and her husband, Jim, of Weatherly
Sister, Vanessa Basara and her husband, Jim, of Hughestown
Brother, Brian Russick and his wife, Gia, of Kingston
Companion, Judy Pliska of Duryea
Aunts and uncles
Many cousins
Countless friends
A Mass of Christian Burial will be held on Thursday, September 28, 2017 at 10:30 am in Holy Rosary Church, 127 Stephenson Street, Duryea. Interment will be held privately. A viewing will be held on Wednesday, September 27, 2017 from 5:00 pm to 7:00 pm at the Bernard J. Piontek Funeral Home Inc., 204 Main Street, Duryea.  Family and friends are asked to go directly to church the morning of the funeral. In lieu of flowers, memorial contributions may be made to Nativity of Our Lord Parish's Building Fund, 127 Stephenson Street, Duryea, PA 18642. To leave an online condolence, please visit the funeral home website, www.piontekfuneralhome.com.
PLEASE NOTE: YOUR ONLINE CONDOLENCE WILL NOT APPEAR UNDER THE GUESTBOOK ENTRIES UNTIL IT IS APPROVED BY THE FUNERAL HOME
Guestbook Entries
I'm sorry for your loss.

Johanna Banick

(over 2 years ago)
We are so sorry for your loss, our deepest sympathies are with you at this terrible time

Paul and Charlene Smith

(over 2 years ago)
Scott - our heart goes out to you and your family at this difficult time.

Amanda and Rusty Russell

(over 2 years ago)
We are very sorry for your loss. You and your family are in our prayers.

Rosanne & Vickie

(over 2 years ago)
Sorry for your losses

Kevin Hall

(over 2 years ago)
Dear Scott and Vanessa. We are so sorry for your loss. We will keep all of you in our prayers. With Sympathy Joe and Liz Zbylicki and Family Mr & Mrs Joe and Liz Zbylicki

Mr and Mrs Joe and Liz Zbylicki

(over 2 years ago)
Ben, Dee, Vanessa, Jimmy, and family ... Our sincere condolences to you all . Sour thoughts and prayers are with you.

Carol and Steve Amico

(over 2 years ago)
Benny & Dee...I'm so very sorry. Brian was a great guy. My thoughts and prayers are with you and your family.

Wendy Whipple

(over 2 years ago)
Rip Brian gone but never forgotten you were a great friend you will surely be missed by many my deepest condolences to the family

Gregory Griffith

(over 2 years ago)
Dear John and Elaine, My sincere condolences on the loss of your son. Only time will help. May you share the good memories of his life. Love is eternal.

Linda Mattioli

(over 2 years ago)
So very sorry, Vanessa and family, for your loss. My heartfelt prayers go out to you.

Linda Litwin

(over 2 years ago)
Very sorry to hear of your loss. I graduated with Brian in 1994...

Gary Snyder

(over 2 years ago)
Ben and Dee our hearts and prayers go out to you and your family

Cindy and Bob Petroshuk

(over 2 years ago)
So sorry for your loss.. Brian was a great person. We went to school together an remained friends since. Bless you all.. My thoughts an prayers are with you!

Lucinda Calvert Mikus

(over 2 years ago)
So very sorry for your loss. May he RIP.

Lynette Villano

(over 2 years ago)
Rest in peace, sending prayers to the family. May God bless.

John and Gyl Mikovitch

(over 2 years ago)
May god watch over you guys and bless Brian forever

Jimmy McAndrew and family

(over 2 years ago)
May he rest n peace i really miss my buddy

Eric dixon n bobbijo Blackburn

(over 2 years ago)
All my thoughts and prayers are with your family and you during this most difficult time. Treasure the memories, may God be with you always.

Elizabeth Steigerwalt

(over 2 years ago)
We will all miss you Brian!!Rest In a paradise friend!!

Erin Adams

(over 2 years ago)
My heart goes to all who were close to him.

Marc Costanzo

(over 2 years ago)
I'm so extremely sorry for ur loss. I know personally that there isnt anything much sadder than the death of a sibling especially at such a young age. Celebrate the good times you all had together and know he will always be by ur sides in spirit. RIP Brian

Jennifer Williams

(over 2 years ago)
We are heartbroken for your loss. So sorry

Amie and Josh

(over 2 years ago)
May you find peace at this heartfelt time .......God Bless.

Peg Gosse Rohland

(over 2 years ago)
Sending the family thoughts and prayers.... Rest In Peace Brian

Antionette Flynn

(over 2 years ago)
I'm so sorry for ur loss!!!

Sierra Frank

(over 2 years ago)
Gona miss ya buddy! RIP...til we meet again

Vanessa and Jim Basara

(over 2 years ago)
Love you brother. Rest easy.

Brian Russick

(over 2 years ago)
So sorry for your loss

Sherri Vojack

(over 2 years ago)
In loving memorys

Pete an kaylynn

(over 2 years ago)
Rest In Peace. So sad to hear of your passing!

Christine (Mulhern) DiPippo

(over 2 years ago)
So sorry for your lost he will be missed by all

Marietta simonson

(over 2 years ago)
So sorry for your loss

Janet michaely

(over 2 years ago)
So sorry for your loss. Thoughts and prayers to your families.

Denise Gosse-Crolly

(over 2 years ago)
Miss you brother! Will never forget you! Your little buddy VERMIE

Casimer t.Vermac 111

(over 2 years ago)
Going to miss you Bud. Love ya bud

Scott M Quick

(over 2 years ago)
So sorry for your loss. May he rest in peace. Tony& Rosie

Anthony & Rose Maszeroski

(over 2 years ago)
So sorry for your loss. May you Rest In Peace Brian.

Laura Nowakowski Brady

(over 2 years ago)
So very sorry for your loss He was a great guy Thoughts and prayers sent to his Family and Friend

Bernadine Hoover

(over 2 years ago)
So very sorry for your loss He was a great guy Thoughts and prayers sent to his Family and Friend

Bernadine Hoover

(over 2 years ago)
All of my thoughts and prayers are with you at this most difficult time, Brian may you R.I.P.

Mary McAndrew

(over 2 years ago)
So sorry for your loss

Slater Family

(over 2 years ago)
i will never forget you buddy you were a good friend and 1 of my good workers

Art Webb

(over 2 years ago)
Scott Thoughts and prayers to you and your family at this sad time.

Frank Cragle

(over 2 years ago)
Love you more

Judy Plisja

(over 2 years ago)
gonna miss you... love you brother

Jim-e Dupras

(over 2 years ago)
Sorry for your loss. May he rest in peace

Peter Guitson

(over 2 years ago)
Our deepest symapathies are with the family at this time. May all the memories that we hold so dear of Brian live on in our hearts forever, you surely will be missed by many.

Mr. & Mrs. Christopher Hodle

(over 2 years ago)
Sign the Guestbook