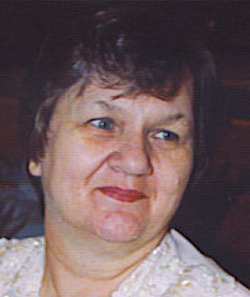 Mrs. Beverly Viadock, 67, of Pittston, passed away Monday, May 18, 2015, at Geisinger Wyoming Valley Medical Center, Plains Township.
Born in Pittston, she was the daughter of Martha Collins Azarovich of Pittston and the late John Azarovich Sr. She was a 1965 graduate of Pittston Area High School and in the fall of 1966, was married to the love of her life, Edmund J. Viadock.
In 1979 Beverly was struck ill with a rare form of meningitis causing her to lose her sight and hearing.  Beverly fought with fearless determination to survive narrow odds.  She overcame life altering obstacles to attain significant achievements, raise her two sons, and eventually, her granddaughter.  Beverly did all of this without complaint, always smiling and drawing joy from her family.
Prior to her retirement, Beverly was employed in the area garment industry.

She was a member of Nativity of Our Lord Parish, Duryea.
She was a loving daughter, mother, grandma and sister.
In addition to her father, she was preceded in death by her husband, Edmund J. Viadock, who passed away on January 27, 2014 and her brother, Michael.
Surviving in addition to her mother are:
Son, Shawn Viadock and his wife, Jennifer, of Duryea
Son, Scott Viadock and his wife, Terri, of Harding
Grandchildren, Alexis, Christopher and Lucas
Brother, John Azarovich Jr. of Pittston
Sister, Carol Musto of Pittston
Sister, Susan Kuckla of Dupont
Sister, Yolanda Suchodolski of Dupont
Nieces and nephews
Funeral services and interment will be held on Friday, May 22, 2015 at 2:00 pm in St. Mary's Cemetery, Hanover Township by the Rev. Andrew Sinnott. Viewing will be held Thursday from 6:00 pm to 8:00 pm at the Bernard J. Piontek Funeral Home Inc., 204 Main Street, Duryea. In lieu of flowers, memorial contributions may be made to The Blind Association, 1825 Wyoming Ave., Exeter, PA 18643. To leave the family an online condolence, please visit the funeral homes website: www.piontekfuneralhome.com.
PLEASE NOTE: YOUR ONLINE CONDOLENCE WILL NOT APPEAR UNDER THE GUESTBOOK ENTRIES UNTIL IT IS APPROVED BY THE FUNERAL HOME
Guestbook Entries
Scott prayers to you and your family.

Rickkk Wickline

(almost 6 years ago)
Aunt Beverly you will be missed dearly. I have so many great memories especially when I was younger and you would take me to the races to watch your team! My thoughts and prayers are with all the family especially Shawn and Scott I can't imagine the pain of loosing your parents love you guys.

Tony musto

(almost 6 years ago)
Real sorry prayers with the whole family

Brian kay

(almost 6 years ago)
Sign the Guestbook