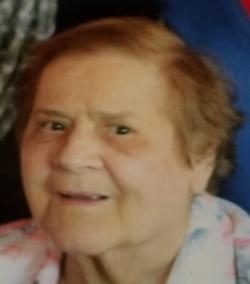 Mrs. Bernardine (Bernie) A. Skurla, formerly of Pittston, passed away peacefully Sunday night, November 5, 2017 at the Meadows Nursing and Rehabilitation Center in Dallas.

Bernie was born in Duryea on May 22, 1933, daughter of the late Sophie (Brzenski) and Edward Szymanski and the stepdaughter of the late Amelia (Plona) Szymanski. She graduated from Pittston High School in 1951 and studied voice under Helen Shaffer in Scranton and also in NY City. She was a lover of the arts and performed as a coloratura soprano soloist on many stages in Luzerne and Lackawanna counties in her youth and young adulthood. Her voice was recognized and enjoyed at Church and any sing-along. She worked at Maxim's as a switch-board operator until she moved to NJ after marrying Michael (Mike) Skurla on December 1, 1956 and became a home-maker. After returning to Pittston, Berrnie went back to work at American Party Favor once her children were older and retired from Topps.
She was a member of Nativity of Our Lord Parish, Duryea.

Bernardine is survived by her daughter Michele Casterlin and son-in-law Bobby, Brick, NJ, daughter Linda Sulcoski and son-in-law Mike, Hanover Twp., Pa., son Michael E. Skurla and daughter-in-law Susan (Veronick), Lincoln University, Pa., grandsons Steve M. Sulcoski and wife Courtney (Thomas), Michael J. Sulcoski, Michael J. Skurla, granddaughter Lauren E. Skurla, brother-in-law John Skurla and wife Phyllis, Anchorage, AK, and many nieces, nephews, and extended family.

She was preceded in death by her husband Mike in 1993 and her sister Mary Frederick in 2008.

Bernie was all about family and faith. She sacrificed so that her children went to Catholic School, was an avid reader, stickler on education, and made sure they all graduated from college or nursing school. She moved in to take care of her Dad after her husband Mike died followed shortly by her stepmother Amelia. She helped with her grandchildren while living with her daughter Linda in Hanover Twp. and also in Lakewood, NJ when living with her son Michael. She was an avid fan and supporter of all of the family's assorted activities (baseball, basketball, volleyball, Drum & Bugle Corp, organ recitals, dance recitals, fundraisers, Penn State football, etc.). Throughout the years, Bernie was always so happy and proud of her children and their spouses, grandchildren, and extended family. She had great devotion to the Blessed Mother and St. Jude. Bernie was truly interested in everyone she met and bringing joy to their lives. Her legacy will live on in her family.
Funeral will be held on Friday, November 10, 2017 at 9:00 am from the Bernard J. Piontek Funeral Home Inc., 204 Main Street, Duryea with the Mass of Christian Burial at 9:30 am in Holy Rosary Church, 127 Stephenson Street, Duryea. Interment will be in the Parish Cemetery, Duryea. A viewing will be held on Thursday evening from 6:00 pm to 8:00 pm at the funeral home. To leave the family an online condolence, please visit the funeral home website, www.piontekfuneralhome.com.
PLEASE NOTE: YOUR ONLINE CONDOLENCE WILL NOT APPEAR UNDER THE GUESTBOOK ENTRIES UNTIL IT IS APPROVED BY THE FUNERAL HOME
Guestbook Entries
Dear Michael and Family, With Deepest Sympathy, I Wish you Well in this time of Sorrow. God Bless, Amoretti's

Amoretti's

(almost 3 years ago)
Mike, The entire ESU baseball program is very for your loss. Our thoughts and prayers are with you and your entire family.

John Kochmansky/ ESU Baseball

(almost 3 years ago)
To our aunts, uncles, and second cousins - we are so sorry to hear about Aunt Bernie's passing. We will always remember her for being so kind and outgoing to us and everyone. We apologize that we will not be able to attend the funeral. Please know that we will be keeping all of you in our prayers during this difficult time.

John Ilyin & Katie (Gerasimowicz) Ilyin

(almost 3 years ago)
Mike, sorry for your loss. May God give strength to you and your family during your grieving moments. My prayers will be with you and yours!

Gary Clerie

(almost 3 years ago)
Mike and Family, We are so sorry for the loss of your beloved Mother. Our prayers are with you and yours...

Michael and Gina Lombardi

(almost 3 years ago)
Very sorry to hear this news. My thoughts and prayers are will you all during this difficult time. Unfortunately, I will be unable to come for the funeral at this time. Please accept my sincere apologies that I can't be there with you. She was a wonderful person and will be missed. I will contact you again soon.

Mary Ann Winn /Tucson Arizona

(almost 3 years ago)
WE ARE SORRY FOR THE LOSS OF YOUR LOVE ONE, YOUR FAMILY ARE IN OUR PRAYERS.

THOMAS FAMILY

(almost 3 years ago)
Sign the Guestbook