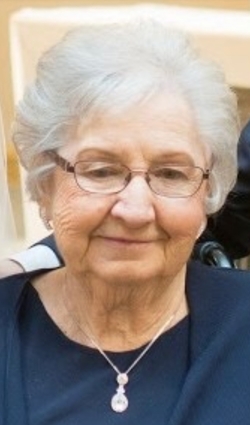 Mrs. Anna Rita McGlynn, 84, of Duryea, passed away Monday, October 5, 2020, at Hospice of the Sacred Heart, Dunmore.
Born in Duryea, she was the daughter of the late John and Alberta Gillis Ochall and was a graduate of Duryea High School, Class of 1956. Prior to her retirement, she was employed by the former Topps Chewing Gum Co., Duryea. Additionally, Anna Rita enjoyed her time as a Girl Scouts troop leader in the 1970s. 
Anna Rita was a member of Nativity of Our Lord Parish, Duryea and was a member of St. Joseph's Church, Duryea prior to its closing. She was a woman of strong Catholic faith who served the Lord in various ministries in her parish communities throughout the years. She attended daily mass until her health prevented her from doing so. At that time CTV fulfilled her faith needs. She enjoyed spending time with her family and baking—especially her famous pineapple squares. She was proud of her Lithuanian heritage and would share some key phrases with those who visited her.
The family would like to express their deepest gratitude to staff at Hospice of the Sacred Heart in Dunmore for their extraordinary care, compassion and friendship shown to our mom and family.
She was preceded in death by her husband, Thomas J. McGlynn Sr., who passed away on May 7, 2013, infant brother, Ralph and brother, John.
Surviving are:
Son, Thomas J. McGlynn Jr. of Old Greenwich, CT
Daughter, Mary Ann Kabacinski and her husband, Deacon Andre of Duryea
Grandchildren:
Ashley Hoffman and her husband, Raymond
Kristen Kabacinski
Christopher Kabacinski
Alexander McGlynn
Jonathan McGlynn and his wife, Emma
Andrew McGlynn and his wife, Dr. Bridget
Mary Kathryn Lannon and her husband, Cpl. Michael USMC
Great grandchildren:
Nora Grace McGlynn
Connor Joseph McGlynn
Aunt, Agnes Roman
Brother-in-law, John McGlynn
Sister-in-law, Mary Blanchard
Sister-in-law, Patricia McGlynn
Numerous nieces, nephews, great nieces, great nephews and cousins
Due to the COVID-19 pandemic, the family has decided to have a private Mass of Christian Burial celebrated in Holy Rosary Church, Duryea with the Rev. John Polednak and her son-in-law, Deacon Andre officiating. Interment will be private in Holy Rosary Cemetery, Duryea. There will be no viewing as per her wishes. Arrangements are by the Bernard J. Piontek Funeral Home Inc., 204 Main Street, Duryea. If desired, memorial contributions may be made to Hospice of the Sacred Heart, 100 William Street, Dunmore, PA 18510. To leave an online condolence for Anna Rita's family, please visit the funeral home website, www.piontekfuneralhome.com.
PLEASE NOTE: YOUR ONLINE CONDOLENCE WILL NOT APPEAR UNDER THE GUESTBOOK ENTRIES UNTIL IT IS APPROVED BY THE FUNERAL HOME
Guestbook Entries
My condolences to & prayers for Anna Rita's children, Mary Ann & Thomas, and to their families. Although our personal contacts were few, they were enjoyable & inspiring. Her Faith & personal example were awesome, & comfort to me and to so many.. Her suffering is over, as She is in God's Eternal Love.

Ned McGlynn

(1 day ago)
With deepest, heartfelt sympathy to Anna Mary's family and friends. May she rest in God's eternal resting place.

Ann Schneid

(1 day ago)
Condolences to the McGlynn family on the loss of a wonderful dear lady. Anna Rita made me feel welcome when I first moved to Duryea 22 years ago. We met after morning mass and she always had a friendly smile and an encouraging word. She is missed and remembered with gratitude. Rest In Peace Anna Rita and May all who knew you follow your prayerful and good example.

karen misorek

(4 days ago)
Anna Rita "gave" all her life. She gave friendship, comfort, positive support, and yes, pineapple squares. She was a wonderful lady. RIP Anna Rita. Condolences to the McGlynn family. She was a treasure.

Sandy Berkoski Singer

(4 days ago)
Prayers and condolences to the entire McGlynn family. "And this is the will of Him who sent me, that I shall lose none of all that he has given me but raise them up at the last day. For my Father's will is that everyone who looks to the Son and believes in Him shall have eternal life, and I will raise him up at the last day." John 6:39-40

Mark Boaman

(6 days ago)
Very sorry for loss. Keeping your family close in thought and spirit during this difficult season.

Hilary Tate

(6 days ago)
I am so sorry for your loss. Prayers for the family.

Valerie Stepp

(6 days ago)
I was so sorry to hear about your Mom's passing.I spent time with her when I worked at Holy Rosary's cafeteria She was such a sweet and pleasant woman and I enjoyed her company . I will keep you all in my thoughts and prayers.

joseph and Beverly McNulty

(7 days ago)
How very sorry I was to read about Mrs. McGlynn's passing. My deepest sympathies to Mary Ann and Tommy. I remember well those pineapple squares! hI also remember her being one of the few mourners at my own mom's funeral in 2009. She made a point to tell me how much she liked and admired my mom. Please be comforted in all those wonderful memories you surely have.

Martin Jon Ryzner

(8 days ago)
May a lifetime of memories bring comfort, peace, and smiles to your grieving hearts. Deepest sympathies, Caryl Komornik

Caryl Komornik

(8 days ago)
My deepest sympathy to the whole family. Anna Rita was a truly genuine person. She cherished her family and Lithuanian heritage. I will forever hold dear the chats we had when I was privileged, at times, to bring her the Eucharistic on First Friday. To say she will be missed is definitely an understatement. May she Rest In Peace. God Bless.

Valerie Olszewski

(9 days ago)
My deepest condolences to all of the family. Sending you prayers and hoping the happy memories bring comfort to you during this time.

Jessica Skrabak

(10 days ago)
Very sorry for your loss, she was a wonderful woman. She will be missed by all.

Nicheporchek Family

(10 days ago)
So sorry to your family. She was a wonderful lady. She will be missed.

Janice Miller

(10 days ago)
Rest In Peace Anna Rita... my prayers to the whole family... memories of her go back many years for me ... she was my first Brownie leader in the late 50's.. because of her inspiration and kind manner I became a leader in the 80's...all the wonderful memories about her life is a great legacy for all of you! God bless!!!

Judy Lambert

(11 days ago)
So sorry to hear about Anna Rita... I remember the times she would be helping out at many lunches at holy rosary school when I would help at school lunch.. she was a very kind woman and is going to be greatly missed in Duryea

Jim and Lisa Gromelski and family

(12 days ago)
Sorry to read about Anna Rita. We were classmates at DHS and got together at our reunions.

Arnie Urban

(12 days ago)
So sorry for your loss. Our prayers are with you and your family.

John and Andrea Petro

(12 days ago)
So s.orry for your loss. Sending prayers to the family

Denise Gosse-Crolly

(12 days ago)
Our thoughts and prayers to all of you. Anna Rita was one of the sweetest and kindest Ladies. Rest in Peace Dear Friend.

Joe and Liz Zbylicki and Family

(12 days ago)
So sorry to the entire family. Praying for you all in this time. She was a wonderful lady and will be missed.

Justin Tonte

(12 days ago)
God Bless You My Class Mate Ly

BERBARD Pernot

(12 days ago)
So sorry Deacon and family for your loss. God bless you all at this time

Ann Edwards

(12 days ago)
Anna Rita was one of the kindest woman I've ever known..always smiling. Our condolences to her family.

Paula & Joe Boyko

(12 days ago)
Mary Ann and Family: So sorry for your loss. You are in our thoughts and Prayers during this difficult time.

Diane Plisga and Rutkoski Family

(13 days ago)
Mary Ann, Tom and Families We are sorry for your loss, our thoughts and prayers are with you. I always enjoyed visiting with Anna Rita when we were in Pennsylvania. Aunt Agnes, Mike & Mary Lou, Jennifer, Harley & Marley, Christine &Tyler

Michael Minchak

(13 days ago)
My condolences to the McGlynn family. Such a sweet lady, always warm and welcoming. We would celebrate our birthdays together with a pizza. I miss our little parties! RIP

Nicole and Sammy

(14 days ago)
She was adored by her son Tom who is a good friend of ours . I know she loved her children and grandchildren through Toms beautiful stories . She had the sweetest smile . May she Rest In Peace .

K.C. and Linda Jones

(14 days ago)
Really sorry to hear about the passing of Anna Rita. She was my god mother. I have lots of fond memories of her. Prayers to the family.

Ken Martin

(14 days ago)
I have happy memories of Anna Rita. She was always such a positive personality. My love, prayers and sympathies to all her family.

Eileen Nahigian

(14 days ago)
A better neighbor could not be found. I will miss you. Rest in Peace.

Carole Berty

(14 days ago)
McGlynn Family, A wave and warm smile was always provided to all who passed by her home. This and her sharing years of accumulated experiences will be missed. Thoughts and Prayers are sent to provide some comfort during these next few days and beyond.

Stan Nazarchuk

(14 days ago)
Sign the Guestbook