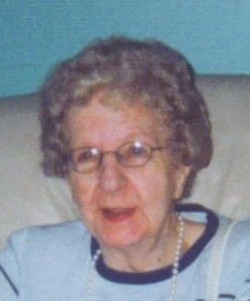 Mrs. Anna (Chipko) Komar, 92, of Duryea, passed away peacefully Friday, December 6, 2019, at her home surrounded by her loving family.
Born in Duryea, she was the daughter of the late George and Anna Didich Chipko and was a graduate of Duryea High School. Prior to her retirement, she was employed by the former Topps Chewing Gum Co., Duryea.
Anna was a member of Nativity of Our Lord Parish, Duryea. Prior to its closing, she was a very active member of Sacred Heart of Jesus Church, Duryea helping with the picnic each year, making clam chowder and helping at the food lenten sales. Anna was one of the parishioners who helped lock the doors to Sacred Heart of Jesus Church, Duryea when it closed. Anna will be remembered as a loving mother, grandmother and great grandmother. She will also be remembered for her love of baking, especially nut roll at Easter and Christmas.  She enjoyed her many trips to the casino with her friend, Marie.
She was preceded in death by her husband, Joseph (Jessie) Komar, who passed away in 1961, grandson, Allan Komar Jr., sister, Mary Chipko and brothers, Joseph, Nicholas, John, George and Michael.
Surviving are:
Son and caregiver, David Komar at home
Son, Allan Komar Sr. of Orangeville, PA
Granddaughter, Melissa Stettner of Florida
Granddaughter, Michelle Bidwell of Duryea
5 great grandchildren
Nieces and nephews
Her faithful and loving companion, Ginger.
Funeral will be held Wednesday, December 11, 2019, at 11:00 am from the Bernard J. Piontek Funeral Home Inc., 204 Main Street, Duryea with Mass of Christian Burial at 11:30 am in Holy Rosary Church, 127 Stephenson Street, Duryea with Rev. John Polednak officiating. Interment will be in SS Peter and Paul Cemetery, Duryea. A viewing will be held on Tuesday from 6:00 pm to 8:00 pm at the funeral home. To leave the family an online condolence, please visit the funeral home website, www.piontekfuneralhome.com.
PLEASE NOTE: YOUR ONLINE CONDOLENCE WILL NOT APPEAR UNDER THE GUESTBOOK ENTRIES UNTIL IT IS APPROVED BY THE FUNERAL HOME
Guestbook Entries
David so sorry for your loose you were a faithful son.

Jackie Stefanowicz

(7 months ago)
So sorry Dave....

Diane Skurjunis

(7 months ago)
Our thoughts are with you at this difficult time... The Staff of Traditional Home Health and Hospice

Traditional Home Health and Hospice

(7 months ago)
Dave and Allen. I would like to express my sincere condolences to you and your family for your loss. May your mom rest in peace.

John Mlaker

(7 months ago)
Rest In Peace dear sweet aunt Anna. You were so kind to me when my father Stanley passed away. God bless and keep you in heaven! Your nephew, John J Komer

JohnJ Komer

(7 months ago)
Anna was an amazing person! I am grateful to have had the privilege of knowing her on 1997; Allan love his grandmother. Rest In Peace Dear Anna.

Jennifer from Panama

(7 months ago)
Dave and family ,sorry for your loss ,she was a wonderful lady and neighbor.

Mary lou Fereck

(7 months ago)
So sorry for your loss. Anna was a nice lady.She was a good friend of my Grandmother. May she rest in peace.

Janice Gromelski Miller

(7 months ago)
Dave I'm very sorry for your loss Mom was a great lady . Thoughts and prayers

Bernadine Hoover

(7 months ago)
So sorry for your loss

Justin tonte

(7 months ago)
Sign the Guestbook