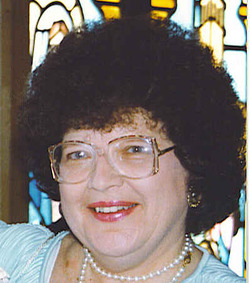 Mrs. Ann Marie Reed, 73, of Jensen Beach, Florida passed away peacefully on Tuesday, July 23, 2013 at Tiffany Hall Nursing Home, Port St. Lucie, Florida.
Born in Avoca, on July 2, 1940, she was the daughter of the late John and Mary Lacuta Haddock. She was a 1958 graduate of Duryea High School.
While living in Duryea, she was a member of Nativity of Our Lord Parish. After her retirement, she and her husband moved to Jenson Beach, Florida where she became a member of Saint Martin Catholic Church, where she was active in the Bread of Life Program.
She was very active in the Duryea Lions Club, where she became the first woman to become a Duryea Lion, the Lake Silkworth Lions Club, and the Jenson Beach Lions Club.
She and her loving husband, James J. Reed celebrated 53 years of marriage together.
Also surviving are:
Son, James J. Reed Jr. and his wife, Cindy, of Avoca
Son, Robert Reed and his wife, Chris, of Duryea
Granddaughters, Angelina and Kimberly
Funeral services and interment will be held on Wednesday, July 23, 2014, at 1:00 pm in SS Peter and Paul Cemetery, Moosic by the Rev. Andrew Sinnott.  If desired, memorial contributions may be made to Treasure Coast Hospice, 1201 SE Indian Street, Stuart, Florida 34997. Local arrangements are by the Bernard J. Piontek Funeral Home Inc., 204 Main Street, Duryea. To leave the family an online condolence or for further information, please visit our website www.piontekfuneralhome.com
Guestbook Entries
Jim and Famil: I was truly sorry to read Ann Marie's obituary. We were childhood friends as well as friends later on. Will keep you all in my prayers. Bernie Matechak

Bernadine Matechak

(over 6 years ago)
So sorry for your loss. Your family is in my thoughts and prayers

Andrea Barycki

(over 6 years ago)
Peace be with you and yours.

Jim (& Phyllis) Moran

(over 6 years ago)
Lion Jim, I was very sad to learn of Ann Marie's passing. She was one of the nicest people that I ever met in my lifetime. I was very proud of her when she became the first female member of the Duryea Lions Club and you know how much courage it took for those of us who supported her. Please extend my sympathy to your entire family. May her memory be eternal. PDG Steve

Stephen Yokimishyn

(over 6 years ago)
Jim, words cannot express how I feel about Ann Marie's passing. I know she is in a better place but that doesn't help much. You and the family will be in my prayers.

Marlene and Joe Mikiewicz

(over 6 years ago)
Jim, Our thoughts and prayers are with you and your family at this difficult time. she was a lovely woman. Ruthie

Ruth and Rich Mozeleski

(over 6 years ago)
Jim, our heartfelt condolences go out to you an family on the loss of your lovely wife Ann Marie. You and family will be in our prayers during this difficult time.

Alex & Peggy Exter

(over 6 years ago)
Jim, my condolences on the loss of Ann Marie. I will keep you and the boys in my thoughts and prayers. Tom

Tom Lampman

(over 6 years ago)
Rob and Jimmy, I am so sorry for your loss and you are in my prayers during this difficult time.

Dan Tighe

(over 6 years ago)
Dear Jim, I was indeed sorry to learn about Ann Marie. You and your family are in my thoughts and prayers. Barbara

Barbara Maziarz Victor

(over 6 years ago)
Sign the Guestbook