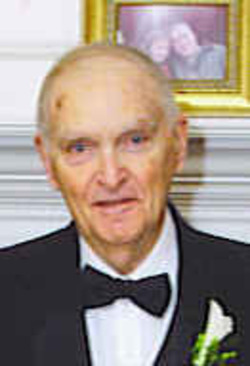 Mr. Andrew (Andy) C. Verdine, 82 of Duryea passed away Friday, November 23, 2012 at Linwood Nursing and Rehabilitation Center, Scranton.

Born in Yatesville on February 15, 1930. He was the son of the late Angelo and Philamina Colarusso Verdine. He was a graduate of West Pittston High School. Andy worked as a sales representative for Hoover Co. from 1963 to 1992.

He was a member of Nativity of Our Lord Parish, Duryea. He was a long time member of the Duryea Lions Club.
Aside from being a devoted father and grandfather, Andrew was a die hard Yankee's fan. In his free time, he loved nothing more than walking his two dogs Esme and Snickers. Although he has passed on, he will be greatly missed by those who knew him.

The family would like to thank Dr. Guy Fasciana, Compassionate Care Hospice, especially his nurse Jeanie, and the nurses and staff at Linwood Nursing & Rehabilitation Center for the care that was given to Andy.

He was proceeded in death by his wife the former Ruth Clarke who passed away in 2001, his son Drew, who passed away in 1998, his son Chris, who passed away in 2004 and brothers and sisters.

Surviving are:
Son: Scott Verdine and his wife Pat with whom he resided
Granddaughter: Jennifer Verdine of Duryea
Granddaughter: Ashley Verdine of Florida
Grandson: Scott Verdine and his wife Marlene of Duryea
Nieces and Nephews

A Mass of Christian Burial was held Monday, November 26, 2012 in Sacred Heart of Jesus Church, Duryea with the Rev. Paul McDonnell officiating. Interment was in Mt. Olivet Cemetery, Carverton. Calling hours were private. If desired, memorial contributions may be made to The Duryea Lions Club, PO Box 2085, Duryea, Pa. 18642. Funeral arrangements were by the Bernard J. Piontek Funeral Home Inc. 204 Main Street, Duryea. To send the family an online condolence or for further information, please visit www.piontekfuneralhome.com.
Guestbook Entries
Our sympathies are with you and your family. We were in TN at the time and just heard about his passing today 12/27..He was a kind and gentle man and surely he is in heaven with his loved ones.

Steve and Mary Rugletic

(over 7 years ago)
Sorry for your loss, I just found out. As I considered him, Uncle Andy will be missed lots of great times nd always loved his stories n jokes

Bobby Reed

(over 7 years ago)
So saddened to hear about your loss. You have a wonderful family and my thoughts and prayers are with you all through this difficult time.

Cay Tokach

(over 7 years ago)
Scott, Pat and Family so sorry about Andy. He was a great friend .We loved him very much. We had a good many years of friendship. We remember the card games at his house and ours and his great jokes. He is sadly missed

Bill & Mariann Aruscavage

(over 7 years ago)
Sorry about the loss of your father, Scott and family.

Dave Oliveri

(over 7 years ago)
Sorry for your loss, I loved the man just like my own father. So many memories with you Scott and your brothers.

Joseph Nosek

(over 7 years ago)
So sorry to hear of Pops passing. He was a great man and I have many memories!! You are all in my prayers.

Stephanie Schmidt

(over 7 years ago)
Sign the Guestbook