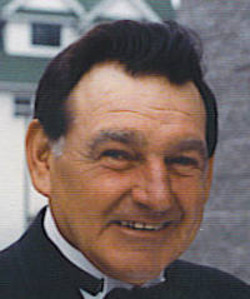 Mr. Alfred "Acky" Akulonis, of Duryea, passed away Friday, May 8, 2015, at Geisinger Community Medical Center, Scranton.
Born in Duryea, he was the son of the late Anthony and Clara Rice Akulonis. Alfred was a graduate of Duryea High School and Wyoming Seminary School of Business.
Alfred owned and operated Acky's Service Station in Duryea for 55 years. Acky spent many hours working, and his gas station was a place where everyone gathered. Acky was not only known for his mechanical skills but for his love of gardening as well. On summer weekends he could be seen for hours working in his flower and vegetable gardens. Alfred loved being with his family and Sundays were always family get together times. He influenced many people throughout his life, especially his grandson. Alfred could dance all night and had great times out with family and friends. He will be greatly missed and happily remembered. He was a proud member of the Pittston YMCA and stopped in every day to work out and see his friends.
He was a member of Nativity of Our Lord Parish, Duryea.
He and his wife the former Judith Koss, who passed away on January 2, 2002, were married in 1960, they lovingly dedicated their lives to their family.
Also preceding him death are brothers, Robert, Albert, John, Rev. Joseph, Anthony and George and sisters, Leona Fedor, Romayne Akulonis, Agnes Lisauskas and Anna Meriesky.
Surviving are:
Son, Alfred Akulonis and his wife, Anissa, of Duryea
Daughter, Jacqueline Lewandoski and her husband, David, of Moscow
Grandson, John Joseph Lewandoski of Moscow
Step granddaughter, Mary Hanlon of Reading
Nieces and Nephews
He will always be the captain of our family ship.
The funeral will be on Wednesday, May 13, 2015, at 10:00 am from the Bernard J. Piontek Funeral Home Inc., 204 Main Street, Duryea with the Mass of Christian Burial at 10:30 am in Holy Rosary Church, 127 Stephenson Street, Duryea with the Rev. Andrew Sinnott officiating. Interment will be in St. Joseph's Cemetery, Duryea. Friends may call Tuesday from 5:00 pm to 8:00 pm at the funeral home. To leave the family an online condolence, please visit the funeral homes website, www.piontekfuneralhome.com.
PLEASE NOTE: YOUR ONLINE CONDOLENCE WILL NOT APPEAR UNDER THE GUESTBOOK ENTRIES UNTIL IT IS APPROVED BY THE FUNERAL HOME

Guestbook Entries
I am sorry to hear of your Dads' passing. He was my mechanic for many years, I had alot of respect for him, very honest and trustworthy. I was always treated with respect when I went to his garage.

Mary Kay Wall

(almost 6 years ago)
Jackie sorry for the loss of your father.

Andy kalie

(almost 6 years ago)
We are so sorry for your loss, Jackie. You are in our thoughts and prayers.

Frank and Jen Gerardi

(almost 6 years ago)
Alfie and Family I am so very sorry for your loss he was a good man thoughts and prayers to you and your Family

Bernadine Hoover

(almost 6 years ago)
With My Deepest Sympathy to you Jackie and all of your family, May Your Dear Dad Rest In Peace. May Eternal Light Shine Upon Him.

Debbie Colarusso, Clarks Summit, Pa.

(almost 6 years ago)
Please accept our deepest sympathy for the loss of your Dad. Our time spent with him was long ago, but obviously, left an impression on us. Acky's Dad and my grandfather came over from Lithuania together in the early 1900's which makes us distant cousins. We were so sorry we missed the opportunity to re-connect as we just called him last week and reside out of state. Please know we are thinking of you during this difficult time.

Diane Klucinikas Boyd

(almost 6 years ago)
Great guy would give the shirt off his back.. going to be missed.....RIP Sorry for the loss

John Henry

(almost 6 years ago)
I'm sorry for your loss

Gerry Goeckel

(almost 6 years ago)
My deepest condolences to your family. He was such a lovely man and made all of us here at the bank smile. We will all miss Acky.

Laura Harding

(almost 6 years ago)
he was like a 2nd father to me when i lived next door for many years, so sorry for your loss, i have many wonderful memories

bernice brezinski

(almost 6 years ago)
Hello, Very sorry to hear the sad news. We will keep the family in our prayers. That will not be hard to do.

Tom , Mary and Kristine Kenney

(almost 6 years ago)
God Bless your family at this really sad time. Your mom and dad raised great children. Live on to honor them and make them proud.

Joyce Perih

(almost 6 years ago)
He was a good man. Glad to have known him

Theresa Ryzner

(almost 6 years ago)
We are so sorry for your loss. Our thoughts and prayers are with you.

LEO AND DARLENE GLODZIK

(almost 6 years ago)
We were always close friends. Would have done anthing for you. But you knew that.

karen

(almost 6 years ago)
Very sorry to hear of Acky' s passing. Had the good fortune of meeting him through the "Y". He will be remembered for his friendliness, quick wit, great sense of humor and for his caring nature. Know he will be sorely missed, but remembered in the hearts of the many people he touched.

Ross Valenti

(almost 6 years ago)
So Sorry for your loss. Acky was a great friend and my mechanic for over 35 years.

Owen Barnett

(almost 6 years ago)
May eternal light shine upon you & may you Rest in Paradise! !

Cathy Ryzner

(almost 6 years ago)
Our deepest sympathy for your loss.

Donna Fortuna/Janice Yarick

(almost 6 years ago)
I am so sorry to hear of his passing. Please tell Al I am thinking of all of you.

Daneen Reese

(almost 6 years ago)
Al I am so sorry for your loss, He was a great man

John Rowlands

(almost 6 years ago)
we are so very sorry for your loss.

John & Jeanne Zinkavich

(almost 6 years ago)
It sound like your dad was really special. I really got a great sense of him from this. Sorry for your loss.

Suzanne Goldklang

(almost 6 years ago)
Condolences. Sorry for the loss of your father.

Scott Douglas

(almost 6 years ago)
So Sorry for your loss.

Peter Guitson

(almost 6 years ago)
Sign the Guestbook