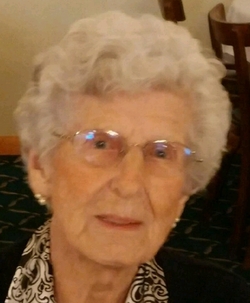 Mrs. Alberta A. Kridlo, 92, of Pittston, passed away Thursday, October 11, 2018, at her home surrounded by her loving family.
Born in Pittston, she was the daughter of the late Paul and Teophilia Pakutka Yakalavich. Alberta was a graduate of Pittston High School and prior to her retirement, she was employed in the area garment industry.
Prior to its closing, Alberta was a member of St. John the Baptist Church, Pittston and its Confraternity of Christian Mothers. She was a member of St. John the Evangelist Church, Pittston.
Alberta was a loving mom and grandma and enjoyed spending time with her family. She was a very active member of the Pittston Senior Citizens.
She was preceded in death by her husband, Aloysius A. Kridlo, who passed away on April 6, 2004, grandson, Dale Kridlo, who passed away on November 7, 2010, brothers, Edward, Joseph, William, Paul, Anthony and Peter Yakalavich and sisters, Mary Budrewicz, Nellie Yakalavich, Ann Faleski and Tillie Kader.
Surviving are:
Son, Albert Kridlo of Hughestown
Daughter, Deborah Rachilla and her husband, Bernard, of West Wyoming
Daughter, Renee Marsola of West Wyoming
Daughter, Lynn Cingolani and her husband, Robert, of Tunkhannock
Grandson, Damian Kridlo of Hamburg, Germany
Grandson, Brandon Marsola of West Wyoming
Grandson, Ryan Rachilla of Forty Fort
Grandson, Justin Rachilla of Swoyersville
Twin great granddaughters, Madelyne and Zoe Kridlo of Colorado
Nieces and nephews
A Mass of Christian Burial will be held on Tuesday, October 16, 2018, their 70th Wedding Anniversary, at 10:00 am in St. John the Evangelist Church, 35 William Street, Pittston. A viewing will be held on Tuesday morning from 9:00 am to 10:00 am at the church. Arrangements are by the Bernard J. Piontek Funeral Home Inc., 204 Main Street, Duryea. To leave an online condolence for Alberta's family, please visit the funeral home website, www.piontekfuneralhome.com.
PLEASE NOTE: YOUR ONLINE CONDOLENCE WILL NOT APPEAR UNDER THE GUESTBOOK ENTRIES UNTIL IT IS APPROVED BY THE FUNERAL HOME
Guestbook Entries
Albert, Debbie, Renee and Lynn, we are so sorry about the loss of your mother. We will remember her as a special neighbor and friend. Our deepest spmpathy to all of Alberta's family

Jack and Joan Egan

(9 months ago)
Very sorry for your loss, Alberta was a great neighbor and friend to our family.

Joanne Whispell

(9 months ago)
Al and family... I am so grateful that I got to say good bye to your mom a couple weeks ago when I was at the house to cut her hair .. we had many diverse conversations over the years of styling her hair... she was a very nice lady and she loved you all so much!! She will always be with you in spirit! Especially at those holiday dinners that she never wanted to give up on... my prayers are with all of you... God's blessings to all those who mourn her loss but rejoice in her memories

Judy Lambert

(9 months ago)
Albert, Debbie, Renee and Lynn, we are very sorry to hear about the loss of your mother. We remember her as a special neighbor and friend. Our deepest sympathy to all of Alberta's family

Jack and Joan Egan

(9 months ago)
Sorry about the loss of your Mom. You are in our thoughts and in our prayers.

James and Donna Washakowski

(9 months ago)
Sincere sympathies and love are sent to a family who had a great Mom. Aunt Alberta was truly a beautiful lady who was truly loving and compassionate. She now rests in peace with Christ,her Savior.

Pat Stoltz

(9 months ago)
Lynn I'm so very sorry to hear about the loss of your Mother . My condolences to you and your family.

Mary Lynn Lemmon

(9 months ago)
Sorry for your loss she was a wonderful lady,we are out of town wont be able to make the services.

Mary lou and mike fereck

(9 months ago)
We are so sorry for your loss. You are in our thoughts and prayers.

Bridget and Michael Brogan

(9 months ago)
Our deepest sympathy. Keeping your family in our prayers.

Marcus and Carmella Magyar

(9 months ago)
Sending my deepest sympathy. I cannot make it to the funeral but all are in my prayers.

Maria Yonki

(9 months ago)
sorry about your lossmyprayers are with you

irene kosik

(9 months ago)
We are so very sorry to hear about the loss of your Mother . Our condolences to you and Debbie and your whole family .

Kathleen and Michael DiMaggio

(9 months ago)
My mom and I are so sorry for your loss. Your mom was my second mom growing up and I loved both your parents very much. It is an honor to be a part of this family and I cherish every minute of eating at your mom's kitchen table, all the sleep overs (just what your mom needed, another kid around) lol, just spending so much time there. Alberta was a beautiful, loving, special woman and she will be truly missed.

Denise Mule'

(9 months ago)
Mrs Kridlo was one of the most loving and amazing women to walk this earth. Take comfort in knowing that she is no longer in pain and in Jesus' Arms. Praying for Peace for all of you and sending you love.

Dan, Terry, Raphael and Dominic

(9 months ago)
We are so sorry for your loss. Aunt Alberta and Uncle Ally were both very special to us. We hope they are reunited happily in heaven. Our thoughts and prayers are with you all. Much love.

Dennis and Liz Pickering

(9 months ago)
Sign the Guestbook